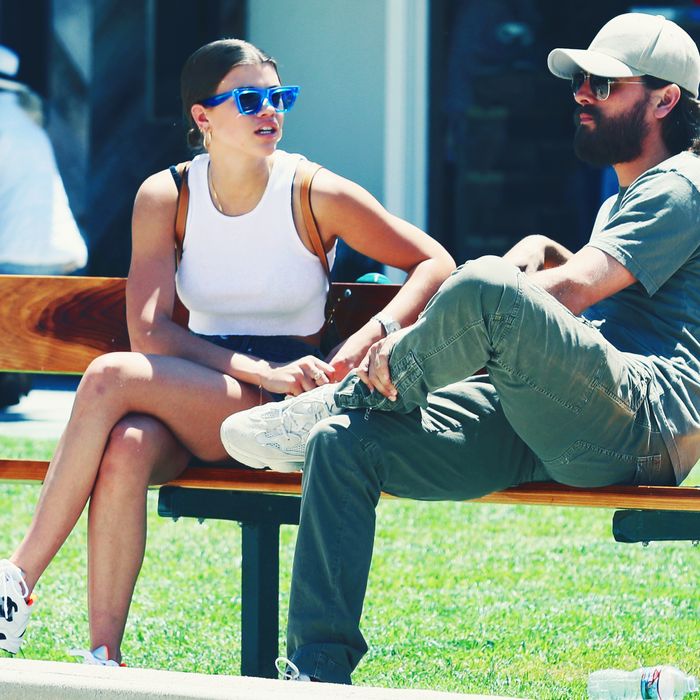 Sophia Richie and Scott Disick.
Photo: JB Lacroix/GC Images
It sounds like 19-year-old Sofia Richie saw those incriminating photos of her 35-year old lover, Scott Disick, getting suspiciously cozy with a woman who is not her at Kanye West's Wyoming listening party. According to a source who spoke with Us Weekly, Richie ended things with Disick after he cheated on her.
Apparently, the incident at the listening party wasn't the first time Disick was unfaithful. Us reports that Disick first cheated on his younger girlfriend, who he's been dating since summer 2017, in Miami. After Sofia found out, she allegedly told her father, Lionel Richie, who was understandably upset. But then, to everyone's relief, Richie reportedly dumped Disick.
"Sofia and Scott split up," a source told Us. "He cheated on her in Miami and she found out and told Lionel. He said he is going to cut her off and write her out of his will if she continues her relationship with Scott as he thinks he's extremely toxic for her."
Writing your daughter out of your will because she picked a shitty boyfriend at 19 years old is maybe a little severe, but Lionel is otherwise right: Disick's dating history isn't so stellar. Why was the couple dating in the first place?
A People story from December 2017 may have described him as "charming," but the reports tell a much different story.