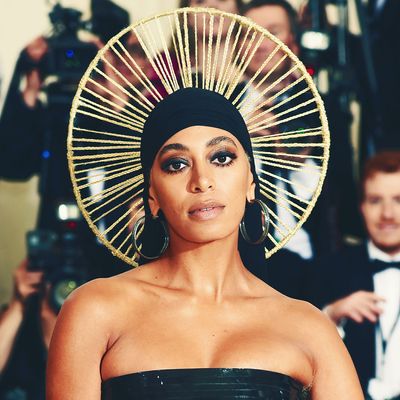 Solange.
Photo: Jamie McCarthy/Getty Images
On Thursday afternoon, Saint Heron, the multidisciplinary cultural hub founded by Solange Knowles, announced a collaboration with the Swedish furniture designer Ikea. A 20-second video featuring the words "Objects, Space, Architecture" in the midst of a swirling, geographic design appeared on the official Saint Heron Twitter account.
"Saint Heron is excited to announce an upcoming creative collaboration with IKEA, exploring architectural and design objects with multifunctional use," reads a statement from the brand. This collaboration, the statement continues, will further Saint Heron's ongoing project of "building the community that we wish to see exist through music, visual art, and performance art mediums."
In a statement, Marcus Engman, the head of design at Ikea Range & Supply, said, "At IKEA we are curious about the creative space in between architecture, design, art, and music and how that could come alive in the homes of the many people. This is what we want to explore together with Saint Heron." The resulting designs are sure to be highly instagrammable.
Fans on Twitter were quick to express their excitement: