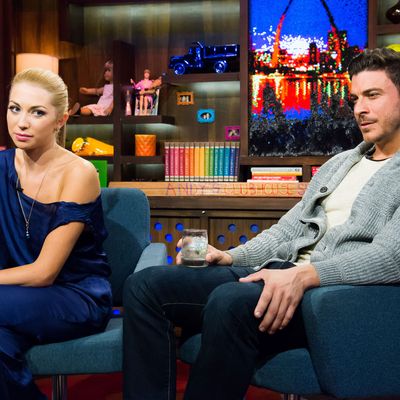 Human Stassi Schroeder with human Jax Taylor.
Photo: Charles Sykes/Bravo/NBCU Photo Bank via Getty Images
Stassi and Jax, from Vanderpump Rules, have had their ups and downs. Jax had sex with Kristin while watching Drive (while he was dating Stassi); Jax had sex with a woman in Vegas and got her pregnant (while he was dating Stassi); and Stassi once asked Jax to hang a framed photo for her (revealing to the world that Jax did not know how to hang a framed photo). Now, though, it seems things are fine between the two. Stassi was supportive of Jax's relationship with Brittany; Stassi was supportive when Jax had family troubles; and Stassi recently gave birth to Jax at the Columbus Zoo and Aquarium.
A beautiful occasion for these vervet monkeys, indeed.
While "in the top picture, you can see Jax Taylor's ultrasound when he was 123 days old in Sassie's womb" is perhaps a sentence one did not need to read, the sentence "you can usually find Jax hanging off of his mom Sassie, learning to navigate his new surroundings" is actually not a bad synopsis of Vanderpump Rules season one. So.
Mazel tov as always to Stassi and Jax.