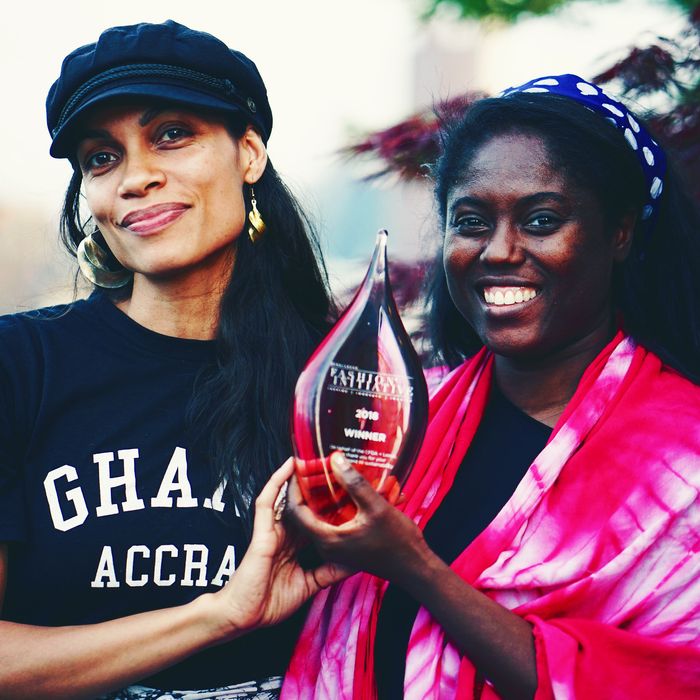 Rosario Dawson and Abrima Erwiah.
Photo: Angela Pham/BFA/REX/Shutterstock
Actress Rosario Dawson is trying to do to fashion what Jessica Alba did to home supplies with the Honest Company. And after last night, she's one step closer. Dawson and her business partner Abrima Erwiah won a grant from the CFDA x Lexus Initiative for $80,000 to continue their efforts for their brand, Studio One Eighty Nine.
The prize followed an intensive eight-month training course with a group of four other brands, all of whom were competing for the grand prize. The program allowed them to ask questions and receive consulting on how to make their brands more sustainable, by focusing on one aspect at a time. New York–based brand WHIT, for example, set a goal use of zero chemicals in their printing process. They'll be putting their sustainability initiatives into practice for spring 2019. Cienne, the runners-up, focused on moving toward responsible fabrics and promoting circularity (a less-is-more mentality where durable resources are used over and over in clothing production to produce less waste).
Erwiah describes Studio One Eighty Nine as being "based between West Africa and New York." Each step of the manufacturing process is in either Ghana or Burkina Faso, often by artisans using traditional techniques. When they were announced as the winners, neither Erwiah nor Dawson could believe it. The program had already helped them formulate a sustainability plan that was "ready to go."
Dawson likened it to Alba's the Honest Company, saying that Alba built a large brand based on good values which has helped define a new industry standard.
"That's a lot of what we're wanting to do," Dawson told the Cut. "Being sustainable is a whole shift — it's new machines and new priorities. And it's not necessarily about money being the bottom line."
CFDA president Steven Kolb and Rachel Espersen, head of Lexus's creative programming and partnerships, presented the award to the designers. Espersen said that Lexus's goal is to provide access and funding to designers interested in sustainability, in order to make a daunting process more accessible.
Dawson later said she didn't expect her brand to win. Because she had been live on Instagram during the announcements, she inadvertently captured her shocked expression when the winners were announced. Erwiah gave an emotional speech thanking Lexus and the CFDA, as well as the four other designers.
"If you buy something made from us, you don't have to think about Was someone harmed in this process? Are there pesticides used?," Erwiah told the Cut. "When you buy it you're having the opportunity to vote with your dollar."