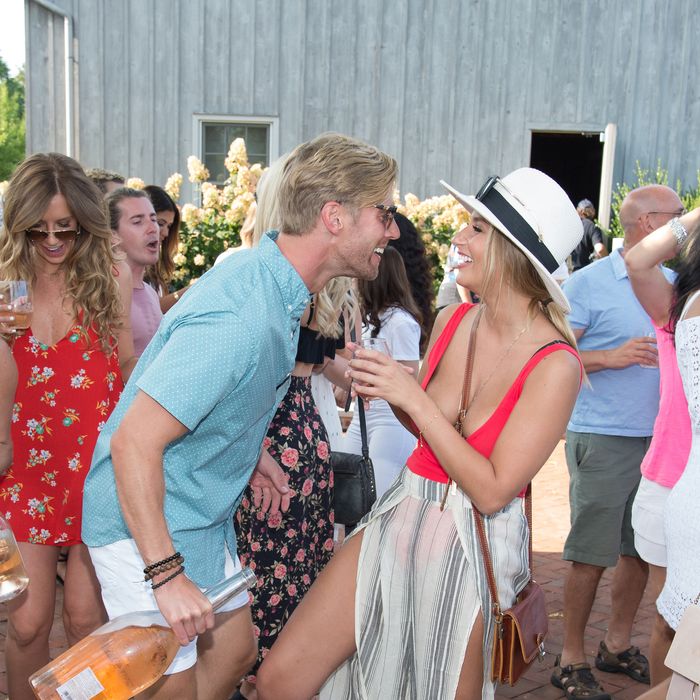 Photo: Mark Sagliocco/Bravo
Oh, gosh — can't anything go right for the cast of Bravo's docuseries Summer House, which follows a group of questionably wealthy Manhattanites who spend their weekends in the Hamptons yelling at each other drunkenly about shit that is boring? It seems nothing can.
After being kicked out of East Hampton, denied permits from Southampton Village, and banned from filming in locations including but not limited to Surf Lodge, the Summer House cast is in a battle with their Long Island gated-community neighbors. "Page Six" reports that a few families who recently purchased mansions in the neighborhood are now upset. One such upset very rich person told "Page Six":
"Not one of the buyers was advised before closing that their multimillion dollar retreat is next door to where a trashy reality TV show is being filmed."
Oh no! My millions! Another upset gated-community member told "Page Six" a sadder tale:
"Apparently, [one family] watched the show and are now worried that their 3-year-old grandchild will be watching people having sex in the woods."
Oh, gosh. It's true that I would also not want that for my own grandchild, if I am so lucky as to have a grandchild one day. Filming will take place on the property every weekend between June 22 and Labor Day, for 12 hours a day, with 35 cast and crew members. Heh. I mean — oh, gosh. I just don't know whose side to take because I empathize with all of them equally.