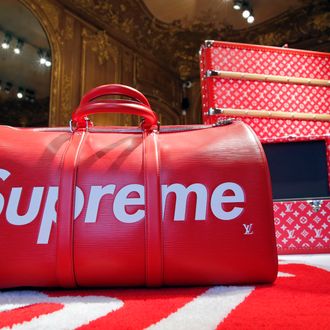 Photo: Chesnot/Getty Images
On Monday night at the Brooklyn Museum, it was Supreme founder James Jebbia's turn to cop a fashion grail: the CFDA Award for Menswear Designer of the Year.
This is the first time the Council of Fashion Designers of America has recognized the streetwear label, which was founded in 1994. Jebbia's win does not come as a surprise, but it does say something about the state of the fashion industry. "I've never considered Supreme to be a fashion company, or myself a designer," Jebbia said matter-of-factly when he accepted the award on behalf of his team. In 2018, you can win American fashion's highest honor without even being a designer — you just need to know how to give people what they want. And what they didn't even know they wanted. Like a brick.
Past winners of the award are major talents like Raf Simons (2017), Thom Browne (2016), and Tom Ford (2008, 2013, 2015). Because American fashion is only a small sliver of the global industry, the same names often come to the top of the pile in every category. Despite losing to Supreme, Raf Simons took home the award for Womenswear Designer of the Year once again last night for his work at Calvin Klein. Thom Browne and Tom Ford were also nominated in the same category again, plus Virgil Abloh for Off-White — another rising star who didn't go to fashion school.
Looking around, there are obvious differences between James Jebbia and the aforementioned names. Traditionally, fashion houses derive their identity from the individual creative minds behind them — it's an auteur-driven business. But while diehards can identify the creatives who've contributed to the brand's success in the past (Brendon Babenzien of Noah and Luke Meier of Jil Sander are two), Supreme is a business without a face; a cult without a personality.
That isn't to say Supreme's products aren't well-made or well-designed. The brand got high-fashion's stamp of approval last winter when it launched a collaboration with Louis Vuitton. But some would lament that hype ultimately is what drives customers into its stores, and hype that lead the CFDA to give the brand this award. (And one to Kim Kardashian West, too.) Were they just fishing for stories like this one? Probably. For relevancy, or "clout points," as the kids call it? Definitely. But are you surprised? This is an awards show we're talking about, and I was actually excited to watch this year.
The difficulty of making it in the industry right now was emphasized by nearly everyone who graced the stage on Monday night. The CFDA can perhaps be pardoned for ultimately trying to raise money for an organization that supports those who do consider themselves designers. That being said, I really don't think Supreme was such a stretch. With the Vuitton connection, a new store in Williamsburg, and a billion-dollar valuation, this was the brand's year.
Last night's ceremony marked a concerted shift on the CFDA's part to present a picture of what modern fashion looks like, from "designers" to "icons" to "influencers." Supreme is officially a part of the fashion conversation, whether we, or they, or LeBron James in a Thom Browne suit, like it or not. The CFDA would be remiss not to at least invite them to sit at the table.
We do have one qualm, though: where's Barbara Kruger's trophy?