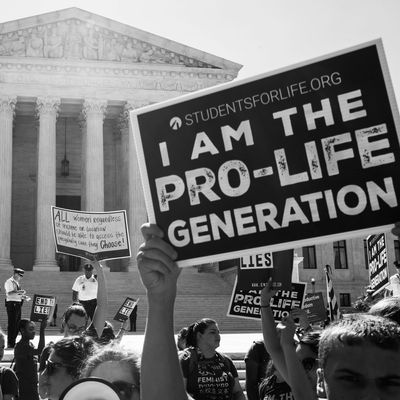 Photo: Zach Gibson/Getty Images
The Supreme Court ruled on Tuesday that faith-based, nonprofit "crisis pregnancy centers," which exist to persuade women into carrying their pregnancies to term, are not required to provide their clients with information about state-offered health services like abortions.
In the case of the National Institute of Family and Life Advocates vs. Becerra, the 5-4 all-male majority decided to reverse California's FACT Act, which mandated that these centers must post notices informing women of public programs that provide affordable abortions and prenatal care. The law also required facilities to disclose whether or not they are licensed by the state.
The Reproductive FACT Act was passed in California in 2015, in an attempt to combat the misinformation spread by many crisis pregnancy centers and to help make low-income women aware of the medical resources available to them. (CPCs across the country have reportedly harassed and shamed their clients out of getting abortions, misled them by offering inaccurate medical information, such as by claiming condoms are "naturally porous," and dressed unlicensed staff in medical garb.)
In their brief to the Supreme Court, the centers' representatives wrote, "Forcing a pro-life group to advertise for abortion has to be unconstitutional."
The law was previously upheld by the Ninth Circuit Court of Appeals in San Francisco, with Judge Dorothy W. Nelson writing, "The notice informs the reader only of the existence of publicly funded family-planning services. It does not contain any more speech than necessary, nor does it encourage, suggest or imply that women should use those state-funded services."
Under Tuesday's decision, CPCs can continue to mislead their clients — because, according to the Supreme Court, requiring them to disclose accurate information about abortion care, birth control, and other medical services "likely violates the First Amendment."
The court's decision is especially troubling because CPCs far outnumber abortion clinics — nationwide there are about 2,700 CPCs, and only 800 abortion clinics — meaning far more low-income women will be exposed to their deceptive practices instead of being informed of their range of reproductive health-care options.
"Today's Supreme Court decision is yet another blow to truth," Debra Hauser, president of Advocates for Youth, said in a statement on Tuesday. "The simple fact is that Crisis Pregnancy Centers offer deceptive and often unlicensed patient care, and perpetuate a culture where people are shamed for their personal healthcare choices. This ruling will only embolden fake clinics to deceive even more people."
"Roe is at greater risk than ever before," she added. "Trump, conservatives, and the anti-choice movement have been working together for decades with one goal in mind: ban abortion in America."