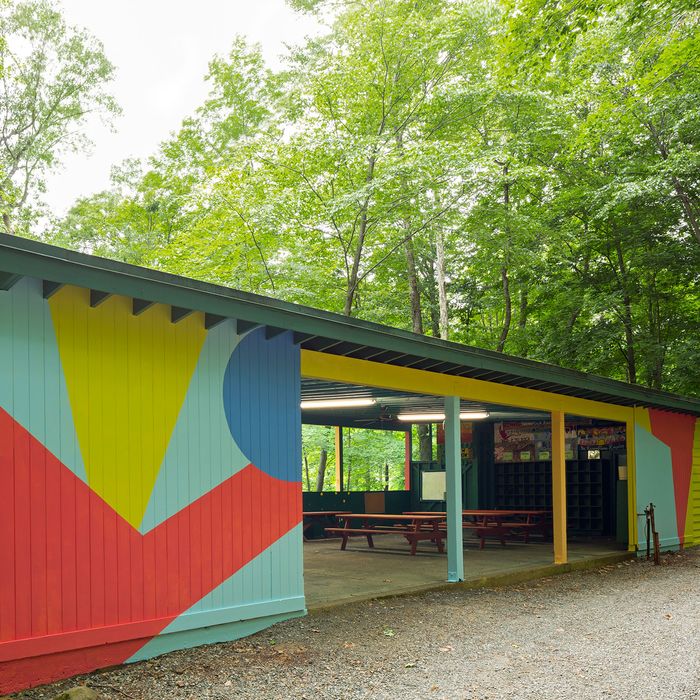 The repainted building at Sunrise Day Camp at Pearl River.
Photo: Courtesy of Tanya Taylor/Bilyana Dimitrova
Last week, fashion designer Tanya Taylor helped repaint and redesign an art building at Sunrise Day Camp at Pearl River, a free summer camp for children with cancer and their siblings that's located an hour's drive north of Manhattan. The Sunrise Day Camp Association runs several camps throughout the Northeast and hosts in-hospital events for pediatric cancer wards and year-round programming.
At Pearl River, three people from Taylor's team spent six days repainting the building's façade in the her signature bright prints and rainbow colors. Kids will gather in the art building during camp sessions between June 27 and August 1. "I really believe that color has a psychological impact on people," Taylor told the Cut. "I know the kids are there to have fun, but I think there's a mood-changer to it. There's something more powerful about using color in an oversized, geometric way that hopefully has a positive impact."
Taylor was inspired to get involved with the camp after touring Memorial Sloan Kettering's pediatric cancer ward in New York City. When she asked hospital administrators about possible collaborations, they connected her with Sunrise at Pearl River. In addition to redesigning the art space, Taylor and her team will revisit the camp this summer to teach art classes. Taylor told the Cut her "long-term dream" is to become an art teacher, and that she has taught classes under her brand's name at Saks Fifth Avenue and Christie's auction house. See more photos of the building below. To support the camp's mission, you can donate here.