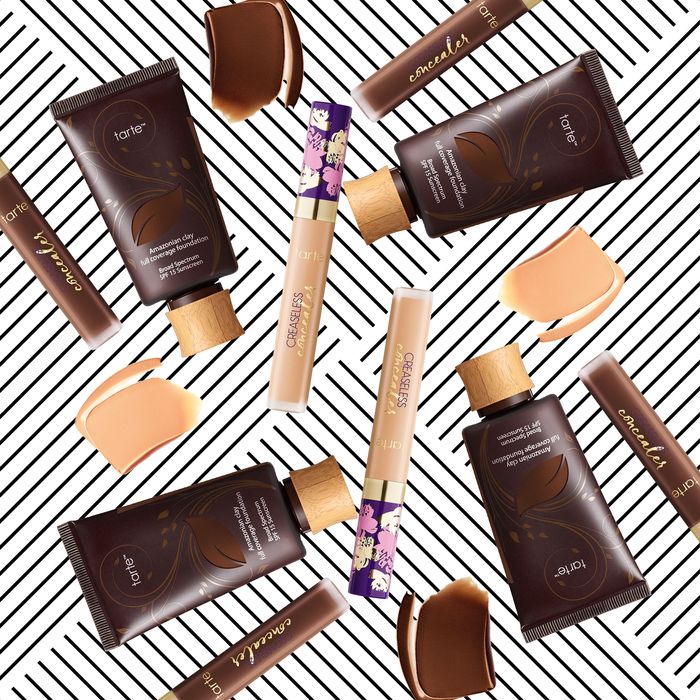 Next up to join the 40 foundation club is Tarte. After the brand was criticized when its limited range of Shape Tape foundations launched in January, founder and CEO Maureen Kelly admitted, "I made a mistake and let all my Tartlettes down." The new products have a much wider shade range.
The Amazonian Clay Liquid Foundation has almost doubled its number of shades, going from 25 to — you guessed it — 40. Seventeen out of the 40 shades are in the tan-to-deep range, and there are charts to help people figure out which shade would match their skin the best.
Tarte made sure the full coverage Creaseless Concealer was also more inclusive. The concealer made the jump from 14 to 30 shades and got a makeover. Before, the concealer came in a tube, but now, it comes with a wand applicator that makes controlling the amount you use much easier.
If you're worried that just making lighter and darker shades isn't good enough and that undertones need to considered, the brand made strides in that area too. Tarte also introduced a fifth undertone for golden and olive tones, to make coverage look more natural. This joins the existing yellow, pink, peach, neutral, and golden undertones.
The new shades are available now at Tarte and will hit stores in July and August. For those who still want to give the Shape Tape foundations a try, Tarte said to look out for shade extensions for those, the concealers, and the Rainforest of the Sea Water Foundation SPF 15 later this year.
If you buy something through our links, New York may earn an affiliate commission.