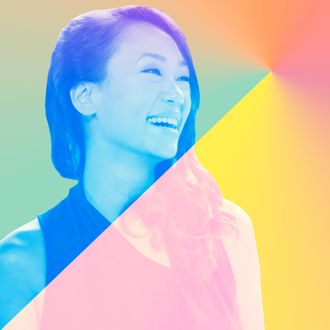 When Vicky Tsai was 8 years old, her mother decided that she needed a perm.
"Bangs, too," Tsai remembers, laughing. "I remember being 14 and not having have much of a social life, but as a result, I did study very hard! It also kept me a virgin, so I guess she knew what she was doing."
Tsai's mom knew best, given that she owned a beauty boutique in their Houston suburb. The beauty bug didn't bite Tsai herself until she was at Harvard Business School, and working for a skin-care behemoth one summer. After slathering every product they made all over her face, she ended up with a nasty case of acute dermatitis.
To quell the condition, Tsai was constantly slathering on Aquaphor, so blotting papers were always within arm's reach. On a business trip to Japan, she found magical, gold-flecked ones that blew all the others away. Curiosity about where they came from led her to ask gold leaf artisans who told her she would have to ask a geisha, who had been using them forever.
Although notoriously secretive, the first geisha she met trusted Tsai and her search for the truth, and brought her to a very popular apothecary. "I saw all these geishas walking in and out, and every single one of them had this glorious skin!" she says. "It was ridiculous." She left the apothecary loaded down with her own arsenal of camelia oils, powdered rice bran, and waxes. Eight weeks later, her skin had healed.
After failed attempts to find these ingredients in the States ("Ebay, Japantown, Chinatown, Koreatown"), she became even more curious. A researcher she hired found a three-volume tome published in 1813 of geisha fashion, beauty, skin care and wellness recipes. Four years after the book's discovery, loads of translating and tons of research and development, Tatcha was born. Thirty-two products later, Tsai has also released her first book: Pure Skin: Discover the Japanese Ritual of Glowing (Clarkson Potter).
Tsai spoke to the Cut about her matchmaking skills, her weakness for fried chicken, and her proudest achievement, which involves helping a ridiculously impressive number of students learn how to read.
Facial cleanser of choice: Tatcha Pure One Step Camellia Cleansing Oil.
Scent of choice: Le Labo Gaiac 10, their Tokyo-exclusive city fragrance. You can only get it outside of the holiday season.
What shade, if any, is usually on your toes and/or hands? Essie Go Go Geisha. Completely coincidental and ironic! I never realized the shade name. My nail salon has it labeled as "24."
What beauty look do you struggle with achieving? A big smoky eye. Bold eye shadow is my white whale.
What do you splurge on? Comfortable shoes. I have YSL Tributes in five colors. Life is too short to be uncomfortable.
Bed linens of choice: 1800 Luxury Bed Sheets. Good beds and bedding are my other splurge — we spend one-third of our lives in bed.
Work icon: Leslie Blodgett (founder and former CEO of Bare Escentuals) and (Philosophy founder) Cristina Carlino — the OG indie beauty bosses!
Favorite podcast: Fat Mascara.
Last great book you read? Shoe Dog by Phil Knight.
Best-selling book that you just couldn't get into? 12 Rules for Life by Jordan B Peterson.
Sweet or salty eater? Salty.
What is always in your fridge? Almond milk.
What do you do or take when you can't sleep? 10 mg of Melatonin.
Favorite smell? Babies' heads.
Least favorite smell? Babies on the other end.
What song is currently in your head right now, and are you happy about it? The song Tiffany Haddish sings at the end of The Last Black Unicorn audiobook. It's awesome.
Do you hear "Yanny" or "Laurel"? Yanny.
Go-to Karaoke song: "Just a Friend" by Biz Markie.
What do you wish you had invented? Tiger Balm.
Name a trait or talent you possess that few know about you: I am a great wing woman! I love matchmaking. I am also very good at parallel parking.
What celeb would be your friend if only you two met? Chuck Feeney is the one person I want so badly to meet. I admire how he has lived.
What is your Achilles Heel? I eat my feelings and my feelings look like pizza.
Favorite Instagram: @tanaka_tatsuya (for tiny adorable things), @watanabenaomi703 (for funny things) and @h.ishibashi1001 (for cool behind-the-scenes snapshots into the geisha world).
Favorite meal and where: In NYC, EN Brasserie's fresh tofu. In Japan, 7 a.m. sushi at the Tsukiji Fish Market. The fish is straight out of the ocean and has the texture of butter.
Comfort food: Karaage. It just sounds better than saying "fried chicken," but that's what it is.
Most recently binged TV show: The Handmaid's Tale. Elisabeth Moss is brilliant.
What product in your domain is misunderstood and should be a best seller? Tatcha The Essence — it's a top seller in the essence category (which is still a small category in the U.S.). It's 98.7 percent pure anti-aging actives, it plumps the skin instantly by increasing hydration by almost 150 percent and makes all your other skin care penetrate more deeply. I can't wait for the Western world to fall in love with the essence category because it's a game changer for skin.
What do you foresee as the top beauty trends in 2018? J-Beauty and clean skin care.
If you won the Power Ball tomorrow, what are the first five things you would do? (after, of course, donating the majority of it to your top charities…) 1) Invest in Tatcha. We don't need capital but I believe in us with my whole heart.
2) I would fund more girls' education initiatives. At Tatcha, we have a partnership with The Room to Read Girls' Education Program and I'm so proud that we will have funded over 2 million days of school soon, but I want to do more. Every child should have access to an education.
3) I would buy a house with a yard that my daughter can grow up in. I didn't take a salary for the first 9+ years of Tatcha, so we lived in my mother's house for most of that time.
4) Buy back the engagement ring that I sold to start my company.
5) Take my friends and family on a trip to Japan so that they can experience the culture that I fell in love with.