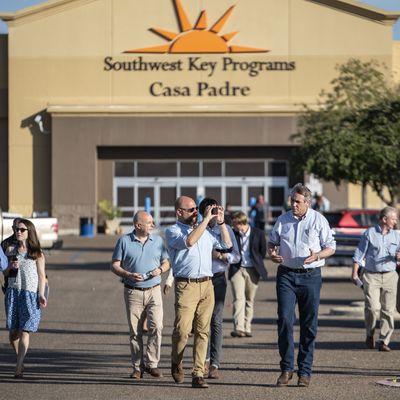 Lawmakers leave the Casa Padre Facility in Brownsville, Texas, on June 17, 2018.
Photo: Sergio Flores/Bloomberg via Getty Images
A 15-year-old boy ran away from a large shelter where he was being housed with other migrant children in Brownsville, Texas, raising new questions about the welfare of children in the system, and how some are being kept from their parents.
Casa Padre reported the boy missing on Saturday afternoon, and police sent out search teams, but were unable to locate him.
A source told CNN that the boy crossed the border by himself and had been in the facility for 36 days. Before he left authorities were in contact with a man in Dallas who claimed to be his father, but there were discrepancies in a DNA test. The "father" said the boy called him on Sunday afternoon and said he was back in Mexico. The man said he gave him money for his trip back to Honduras. "I can tell you he's alive," the source said of the teen.
Southwest Key Programs — which runs 26 other shelters in Texas, Arizona, and California and received $458 million from the federal government in the current fiscal year — said the boy left the facility on Saturday, and they couldn't stop him.
"As a licensed child-care center, if a child attempts to leave any of our facilities, we cannot restrain them," the statement said. "We are not a detention center. We talk to them and try to get them to stay. If they leave the property, we call law enforcement."
A source told NBC News that Southwest Key has cared for 19,849 children in this fiscal year, and 42 have left.
Earlier this month Casa Padre became the first facility journalists were allowed to tour since the Trump administration announced its "zero tolerance" policy. Accounts of children being "incarcerated" there (along with the creepy Trump mural on the wall) helped make migrant family separations a major national news story.
Since the story broke Southwest Key has been trying to assure lawmakers and the public that the children are well cared for, and letting a minor wander off on his own doesn't help their case. On the other hand, it sparked new discussion about whether children could just exit the facility to return to their parents, rather than dealing with the Trump administration's disorganized process for family reunions.
Michelle Brané, the director of the migrant rights and justice program at the Women's Refugee Commission, told the New York Times that shelter employees don't have the authority to "tackle a kid and restrain them," but when a child leaves they have to call the authorities because they're technically in federal custody.
She said it's possible children are leaving because they just want to "go find their parents," but "if children are running away, that raises questions about the care that's being provided."