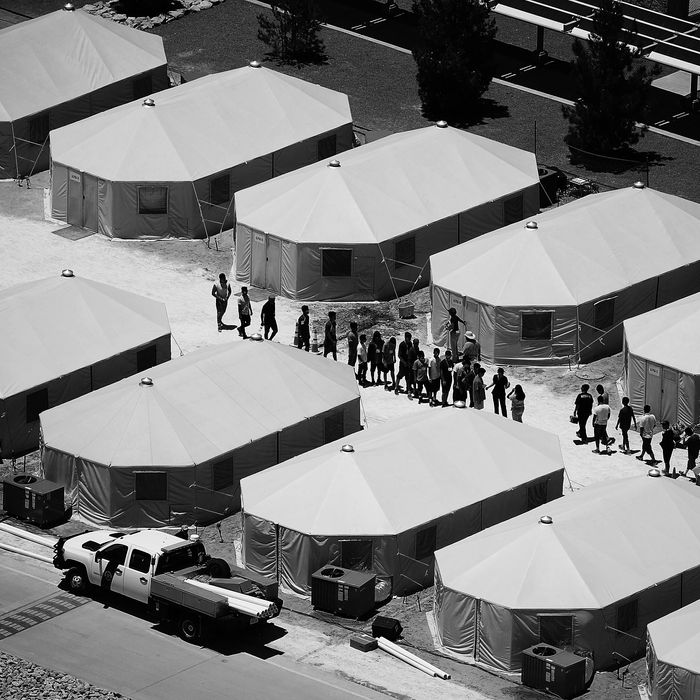 Tornillo tent city.
Photo: Joe Raedle/Getty Images
Eleven days after the opening of a new detention center for immigrant children in Tornillo, Texas, media were allowed inside the temporary "tent city" the first time. What they saw, they later said was a shelter run by disapproving managers, where every aspect of the children's lives is strictly regimented.
On Monday morning, a group of 23 reporters toured the 22-tent facility, which reportedly houses 23 children who were ripped from their parents under the Trump administration's family-separation policy, as well as 303 minors who crossed the U.S.–Mexico border on their own. Before they entered the facility, journalists were informed that they could not use phones, cameras, or recording devices to document their surroundings, though they later described the conditions they witnessed in reports and on social media.
Tom Namako, a reporter from BuzzFeed News, was critical of photos of the facility that the U.S. government had released — the only images currently available to the public — which show unopened crayon boxes and coloring books atop clean bunk beds, young boys eating cups of watermelon and hot lunches, and tables of minors watching the World Cup match between Argentina and Croatia.
"This is a very, very sanitized version of the truth," he tweeted.
In one photo, two children are shown holding phones to their ears (kids in the facility are allowed to speak to their families twice a week for just ten minutes at a time, reporters said). However, Namako noted, one of the children in the photograph appears to not be making a call. "You can clearly see on the screen no call is being made," he pointed out on Twitter.
According to Nigel Ashok Duara, a national correspondent for Vice News Tonight who was also on the press tour, each minor sleeps in a metal bunk bed alongside 19 other children in a canvas tent. The only time that the children are left unaccompanied are when they go to the bathroom. For every 15 kids, there's a single shower; for every 10 kids, there's one toilet.
According to BuzzFeed News reporter Amber Jamieson, even the workers at Tornillo are critical of the family-separation policy. On the tour, a manager who asked not to be named called family separations "a dumb, stupid decision."
"I'm totally against the separation," he said.