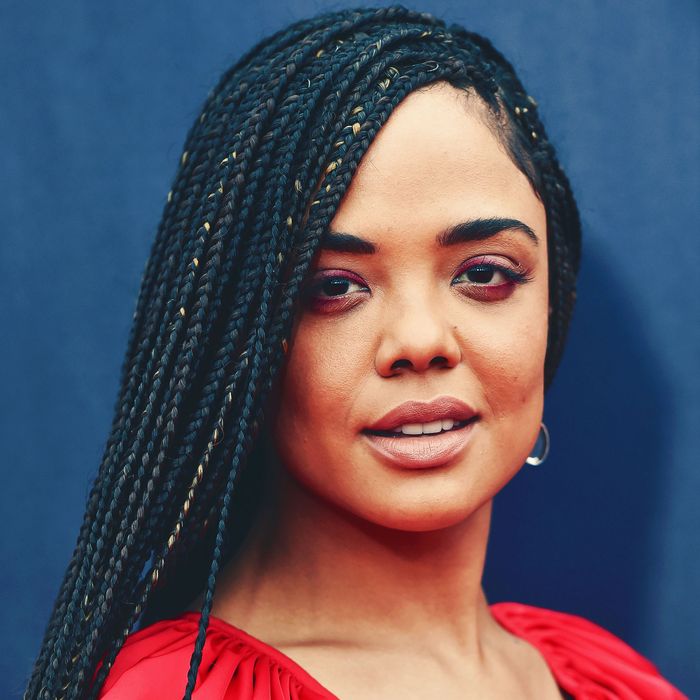 Photo: Axelle/Bauer-Griffin/FilmMagic
In what might be the greatest day for #Janessa shippers since the release of Dirty Computer, Tessa Thompson opened up about her sexuality in an interview with PORTEREdit. While she didn't quite come out and confirm that she and singer Janelle Monáe are dating, as has long been speculated, she does say that the pair "love each other deeply."
"We're so close, we vibrate on the same frequency," she says. "If people want to speculate about what we are, it doesn't bother me."
As for the pair's coyness about the rumors surrounding their relationship (Monáe recently came out as pansexual in a Rolling Stone interview), Thompson talks about the difficulty between balancing the importance of LGBT visibility and the desire for privacy.
"It's tricky, because Janelle and I are just really private people and we're both trying to navigate how you reconcile wanting to have that privacy and space, and also wanting to use your platform and influence," says Thompson.
Thompson also confirms in the interview that she is attracted to both men and women.
"I can take things for granted because of my family – it's so free and you can be anything that you want to be. I'm attracted to men and also to women. If I bring a woman home, [or] a man, we don't even have to have the discussion … That was something I was conscientious of in terms of this declaration around Janelle and myself. I want everyone else to have that freedom and support that I have from my loved ones. But so many people don't. So, do I have a responsibility to talk about that? Do I have a responsibility to say in a public space that this is my person?"
Another great moment of bi visibility in 2018.