Because no two paths to parenthood look the same, the Cut's How I Got This Baby invites parents to share their stories. Want to share yours? Email gotbaby@thecut.com and tell us a bit about how you became a parent.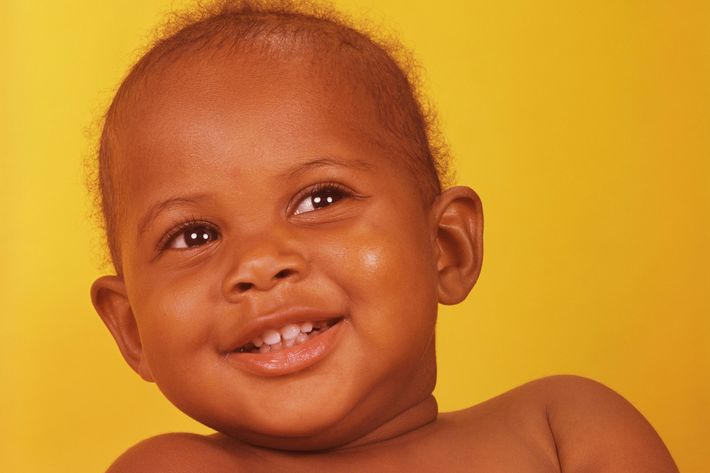 Kim has always known she was adopted. When she was 2 and a half, her parents — a white couple with two biological sons — met her at JFK, where she landed after making the journey from an orphanage in South Korea. She describes her childhood as a healthy, happy one, during which her adoption was an open topic. Kim didn't think as much about her own biological background until her daughter was born three years ago and her husband made a comment that stuck with her. She discusses her family's approach to adoption, the reason she knows her birth mother was a loving parent, how motherhood made her more interested in her past, and why she's not sure she would adopt a child.
On wanting motherhood. We were married for a few years before my husband and I started talking about the possibility of becoming parents. I'd never really had the impulse to have a child. Frankly, I didn't actually like children all that much. I like my friends' kids, but I've never been someone who stops and melts whenever a baby's around. There just wasn't some maternal thing that clicked inside me. Until there was, I guess.
We were trying, but not trying hard, if that makes any sense. It was the casual, just stopped using protection kind of trying. But after a few months of nothing happening, I started to clock my cycle. I began getting really upset every time I got my period. That monthly disappointment was clarifying — I realized I really wanted a baby.
I started to get worried I wouldn't be able to conceive. And since I'm adopted, I had no medical history or background to give me any hints about what might be going on with my body.
On experiencing pregnancy. The night I found out, I was a pretty buzzed from a happy-hour sendoff my old co-workers organized. Actually, earlier that day I'd wanted to bail altogether, I just felt a little strange. I had a hunch, picked up a test on the way home, stumbled straight into our bathroom and took it. A few minutes later, I came out from the bathroom, looked at my husband and said, Oh shit. There was another test in the box; I took that one too. Same result.
I really loved the midwives I saw — they were amazing. But when they asked routine family-history questions I couldn't ever offer up much information.
I'd tell them I was born in Korea, adopted by a white family, and that's all I really know. They were respectful and never made me feel uncomfortable about it. If anything, it bummed me out that I didn't have any answers.
Morning sickness happens all day, and for me, I was sick all the time. I retained water through the whole pregnancy. My ankles and calves were about the same width — I couldn't get into any of my shoes, could barely lace anything. I have a tiny frame: I'm Asian. I had a really hard time with the weight gain. I gained a lot — about 60 pounds. It was physically uncomfortable, the entire time.
On giving birth. Two weeks before my due date, I went in for a precautionary ultrasound because of my excessive weight gain. They found my fluids to be low and I was put on bed rest. The next morning I felt off. But our parked car had gotten hit in a snowstorm and needed to be looked at, and I felt very strongly that we needed to get that taken care of before the baby came. So instead of telling my husband I felt funny, I told him to take the car to the shop. It wasn't until he left that I texted my doula and told her what was going on. She told me I was probably experiencing contractions and needed to start timing them. They were about nine, ten minutes apart.
My doula said that since I had an appointment that afternoon anyway, I should call my midwife and let know her what was going on. My midwife told me to come in as planned, but pack a bag just in case. Nothing felt urgent. So I got everything together and texted my husband to meet me there, at the hospital. I took a car from Brooklyn to Columbus Circle, my husband tracking the trip on his phone. I started to have really intense contractions stuck in Friday rush-hour traffic on the West Side Highway. I don't think the driver had a clue what was going on, but I was gripping the side of the car and squeezing, in so much pain.
They took us straight up to triage, where they sent me straight to labor and delivery, instead of the birthing center, like we'd planned. And that was it. I was having the baby. Our daughter was born less than five hours later.
On a biological connection. While we were still in the hospital, when our daughter was just a day or two old, my husband said something that really stuck with me. He said he was proud and happy to help give me my first blood relative.
I had a very healthy adoption and childhood, and I've always been very close with my parents. My dad passed away when I was in college, but I talk to my mom all the time. Still, after I had my daughter, I realized there was something I'd been missing throughout my life.
Being biologically connected to my daughter was very foreign to me. It is very foreign to me. I know our daughter is so special to my husband, but she's so special to me in a very specific way. I mean, every mother is supposed to feel that way about her child. But, for me, having a biological connection to her represents so much more. I'm grateful for it. I didn't know what I was missing.
On her childhood. I was adopted when I was 2 and a half. I came from South Korea by way of JFK. My parents met me at the airport.
My birth mother was young, 18 or 19, when she got pregnant by her boyfriend — I actually don't know if he was her boyfriend or not. But she got pregnant, and her family disowned her because she was unwed. What's on record is that she gave birth to me and got a job in a kitchen where she carried me on her back while she worked until I was 2 and got too heavy. When she couldn't do it anymore, she gave me up for adoption. I was sick; I was malnourished and had a hernia. But it says in the records that I was loved and cared for the best she could, that our separation was very traumatic for me. I was in the orphanage for about six months before I was adopted.
I've thought about going and trying to track my birth mother down. I've watched a lot of documentaries about adoption, exploring more as I've gotten older, as I've become a mother. But it's hard — there are times I really want to do it, and times when I'm just too scared. My mother supports me trying to find her, though, if I want to. She wants to be a part of it too — she has a lot of respect for her. To be able to give up your child so she can have a better life. There's no other words for that kind of love.
My mom has told me that I cried for eight months straight and screamed umma, which means mom in Korean. I wouldn't eat anything besides white boiled rice and apples. They couldn't get me to eat anything else. I just screamed umma.
On considering her childhood. Now that I'm a mother I think I have more perspective on my own adoption. There are some things that I think I should have had growing up — like, when I was little, my mom asked if I wanted to take Korean class. Now I wish she'd forced me to take that class. My parents would also try to cook Korean food or take me to a Korean restaurant, but I was never very interested. I already felt different; I didn't want to do anything that made me stand out even more. I wanted to do soccer or dance, whatever everyone else in my mostly white community was doing.
Now, my 3-year-old daughter goes to Korean classes. I just want her to know that I gave her this opportunity to learn — to learn more than I have. As an adult, I've felt ignorant to my own background.
In my parents' defense, they really didn't know, and they were trying to do what they thought was right. I recently joined a group for people adopted from Asia and have heard a lot of other people's perspectives — some of the experiences I've heard about are just awful. Mine wasn't like that. But there just wasn't as much awareness about the importance of preserving an adoptee's culture.
On raising her daughter. Recently, we took our daughter on a family vacation to Disneyland. I was especially excited to take her on the It's a Small World ride — I hadn't been on it as an adult, but it holds a really special place of nostalgia for me. As a kid, I really did feel good, looking at all different types of cultures — stereotypical representations, yes — but all different types of cultures and people.
I'm really trying to raise a thoughtful, well-rounded child. Diversity isn't a novelty to her. I love the fact that she knows that my mom is white and doesn't look anything like me. And my husband has a sister who's black, and now she has a daughter, my daughter's cousin. There's something so special about having a diverse family, in which some people don't look alike. That being said, representation is so important, and she has so many friends that are Asian and half-Asian that look like her.
On adoption. After being adopted myself, I know it's not something I would pursue as a parent. I really respect people who do it. But I don't think it's for me. To do it properly, to do it respectfully — I'm not sure I have that in me. My mom is so selfless and so strong. She wanted to adopt because she had all this love and wanted to take care of someone who was already born. There's something to be said about being able to unconditionally love someone in that way. When you adopt a baby, I think you grow a different kind of love — though I don't know, because I haven't done it myself. I know my mom loved me immediately. But I'm not sure if I adopted a toddler, I would be capable of this. I would hope so.
If I were giving advice to a prospective adoptive parent, I would say to ask for as much information as possible, like family history, photos, even the little things. I have no idea if I look like my birth mother or what time I was born, and I'll probably never know. My daughter was born at 9:56 p.m. on a Friday. She weighed seven pounds, two ounces. Little things like that might seem like they don't matter, but they're amazing.