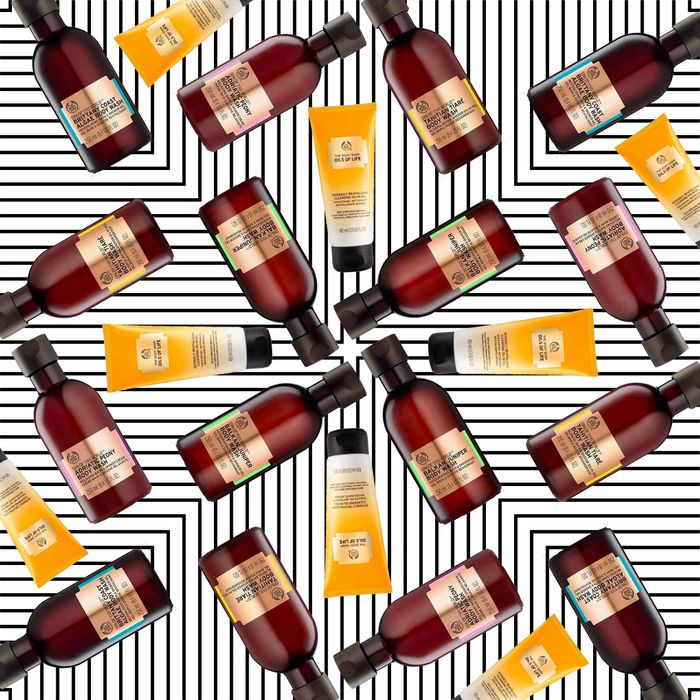 The Body Shop just released a collection of bodywashes inspired by places you save up frequent-flier miles to visit. Their new Spa of the World line includes four scents that smell several thousand miles away.
The four bodywashes are all uniquely soap-free, but just because they don't have soap doesn't mean they don't clean. Much like cleansing oils for the face, these come in cream, gel, and oil-in-gel textures that lather without stripping moisture away from skin. Tahitian Tiaré is a mix of monoi and coconut oil and Tiaré-blossom extract inspired by an island getaway. The Brittany Coast Algae is a gel formula made with honey; it smells fresh and sweet like the coast of France. Adriatic Peony is a delicate floral scent that feels most relaxing when drawing a bath. And Balkan Juniper is an energizing fruity gel for people who like to shower in the morning.
Separate from the bodywashes, which all come in a deep-brown bottle, there's also a new Cleansing Oil-in-Gel for the face that comes in a bright-yellow tube and is completely vegan. Thirty percent of the formula is made of pure seed oils and is purported to leave skin moisturized for nearly 72 hours. The oil-in-gel formula has ingredients sourced from Egypt, Chile, China, and Italy and transforms from a gel texture to a creamy lotion once it comes in contact with water.
Each of the bodywashes is made with community trade ingredients from across the world, keeping with the brand's ethical commitments, which includes being cruelty-free. The Body Shop is also asking for signatures on a petition to the United Nations that will seek to end animal testing in cosmetics worldwide in the next two years.
The bodywashes and the cleansing oil are available now from the Body Shop.
If you buy something through our links, New York may earn an affiliate commission.