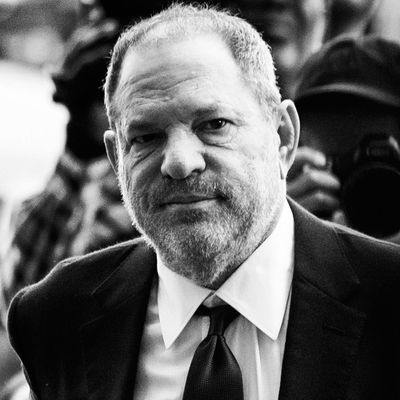 Photo: Drew Angerer/Getty Images
Eight months after reports of his abusive behavior ignited the #MeToo movement last fall, Harvey Weinstein appeared in a packed Manhattan courtroom to plead his innocence on Tuesday. He spoke so quietly that, seated behind him in the court's front row, I couldn't hear his voice. But as defense lawyer Benjamin Brafman helped the disgraced movie mogul plead "not guilty" to three sexual assault charges, it soon became clear that Harvey Weinstein remains uncowed. He still claims that his accusers consented to everything.
Out on a million-dollar cash bail, Weinstein surrendered his passport and has been wearing an ankle monitor under his trousers. Law enforcement in New York, London, and Los Angeles had all announced investigations into his alleged sex crimes. But New York District Attorney Cy Vance — whose alleged mishandling of another Weinstein accusation is under review — was the first to launch criminal proceedings. Weinstein turned himself in to the NYPD two weeks ago. Meanwhile, a New York–based class-action civil lawsuit is also brewing — a fact discussed during Weinstein's arraignment. Famed feminist lawyer Gloria Allred looked on from the audience, prompting speculation as to whether she, too, will sue Weinstein.
When a weary-looking Weinstein arrived in court, shuffling up the aisle with a slight limp, more than 50 members of the press had packed into the at-capacity courtroom. Outside, vans with satellite dishes and TV-news logos ringed the block. "We have people positioned everywhere," a reporter from a daily newspaper told me, leaning over a crowd-control barrier in the hall outside the room. A reporter for the New York Times chatted with a reporter from TMZ.
Inside, Weinstein sat quietly while Brafman tipped his hand to the case he will make, should the case go to trial: "However reprehensible the crime of rape is, it is equally reprehensible to falsely accuse someone of rape." What the state of New York has characterized as criminal sexual conduct, Brafman said, was actually "consensual." Brafman intends to question the credibility of witnesses and victims.
This is the defense everyone knew was coming, the one Weinstein has held to as more than 80 women have publicly accused him of rape, harassment, and forcible touching during his decades-long career as a movie producer. Part of the reason that Gloria Allred's presence caused a stir is that an early Weinstein apologist, Lisa Bloom, is Allred's daughter. (After a series of public fumbles, Bloom distanced herself from Weinstein.)
An acclaimed trial lawyer, Brafman has defended a number of loathed figures: Martin Shkreli, Dominique Strauss-Kahn, Charles Kushner. Standing before Judge James Burke, Brafman accused prosecutors and law enforcement of courting public opinion and "prolific" leaking to the press.
Assistant District Attorney Joan Illuzzi bristled at the accusation: "It was not the people who went out to the courtroom steps and started talking about the casting couch, really undermining the seriousness of these charges," Illuzzi said. A seasoned prosecutor with cold-case experience (she successfully prosecuted Etan Patz's killer) Illuzzi also has experience with high-profile trials.
After Weinstein entered his plea, Judge James Burke led a discussion of conflicts of interests, pre-trial motions, and when Weinstein would next appear in court (September 20). Then he dismissed the court. Flanked by Brafman and two other men in suits, Weinstein stood to exit. Most of Manhattan's criminal courtrooms contain a waist-high wooden barrier with a velvet rope, which separates the court's audience from its participants. When defendants enter and exit the room, court officers with handcuffs clipped to their belts typically pull back the velvet rope. When they did this for Weinstein, he hesitated, looking around as though waiting for instruction. It seemed to be the only velvet rope in New York City with which Harvey Weinstein was unfamiliar.
On the sidewalk outside, a male passerby called out to a scrum of paparazzi: "Who are you waiting for?" Harvey Weinstein, a photographer called back. The man made a sound of disgust — as did a second passerby, a woman, who shook her head as she walked past.