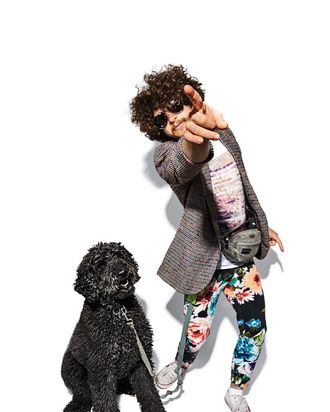 "Before I walked dogs, I worked with horses. And lions and tigers."
Photo: Bobby Doherty
Barry Kantro, Dog Walker
Who is this?
Schooner. She's a black Labradoodle. We just got back from the library. There's a guy there who sells snacks. She smelled him from a block away and almost threw out my hip beelining it to him.
How'd you get into dog walking?
I've always felt comfortable with animals. Before I walked dogs, I worked with horses. And lions and tigers.
Lions and tigers?
I volunteered for a couple of months at a zoo in Israel. I'd wake up at dawn to see the elephants on their morning walk, linked up trunk to tail. Then I'd usually go visit with the red panda, Simon.
New York must have seemed dull when you got back.
I didn't stay long. I decided to hitchhike across the country. For the most part, it was smooth sailing. In Chicago, I stayed with this woman I found on Craigslist who turned out to be Lou Reed's ex-wife. She even whipped out her wedding album. Not every experience was great, though. In Wisconsin, I drove with an older man. A couple of minutes in, he pointed to a gun hidden between his knees and said, "Watch yourself."
Whoa.
Yeah. It's funny: No matter how safe you feel on a ride, about five hours in, there's a point where you're inevitably like, "Okay, are you going to kill me now?"
Age: 27.
Neighborhood: Prospect Heights. 
Reading: "Graphic novels. Philosophy books. A Confederacy of Dunces. Siddhartha."
Watching: Patrick Melrose.
Dog-walking music: "Disco. Techno. Funk. Retro funk. Future funk. The dogs like music. Sometimes they howl along."
*This article appears in the June 25, 2018, issue of New York Magazine. Subscribe Now!