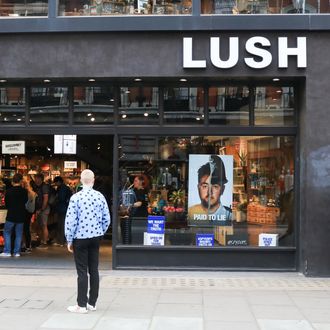 Lush store.
Photo: Amer Ghazzal/Barcroft Media/Barcroft Media via Getty Images
On June 1, Lush U.K. launched #SpyCops, a national campaign intended to bring attention to the frequency with which police go undercover to infiltrate the lives of activists. Almost immediately, critics started slamming #SpyCops for being "anti-police," all the while ex-police were allegedly intimidating Lush employees over the campaign.
Below, here's what to know about the controversial Lush police campaign.
What exactly is the campaign?
According to a Lush press release, the goal of #SpyCops is to "raise awareness of the ongoing undercover policing scandal, where officers have infiltrated the lives, homes and beds of activists." For this month-long initiative, the cosmetic retailer partnered with Police Spies Out of Lives, a campaigning support group that seeks to end sexual and psychological abuse at the hands of undercover cops.
In the windows and dressing rooms of stores are signs that read statements such as "police have crossed the line," "police spies out of lives," and "#SpyCops inquiry: Truth or cover up?"
How is Lush asking consumers to participate?
First, it's important to note that Lush didn't create #SpyCops — they merely joined the already existing campaign to help raise awareness. Since 2015, Sir John Mitting launched an inquiry into undercover policing from forces across England and Wales. Therefore, Lush is requesting that customers sign a postcard addressed to Home Secretary Sajid Javid, asking him to extend the Undercover Policing Inquiry to Scotland, name a panel of experts to help investigate undercover policing, and release data tied to already existing cases.
And why is is controversial?
Many people — cops especially — have slammed the campaign for being "anti-police." One such person was Ché Donald, the vice-chairman of the Police Federation of England and Wales, who tweeted, "This is very poorly thought out campaign and damaging to the overwhelmingly large majority of police who have nothing to do with this undercover enquiry."
Some customers have even expressed their intent to boycott the cosmetic retailer using the hashtag #BoycottLush.
Has Lush responded to the criticism?
In response to the criticism, Lush U.K. asserted that #SpyCops is not an "anti-state" or "anti-police" campaign, and that its goal is "to highlight the abuse that people face when their lives have been infiltrated by undercover police."
Is there any sign that the campaign will end prematurely?
While some stores have stepped away from the campaign due to ex-police officers allegedly intimidating employees, Lush U.K. has stated that the campaign will go on as intended.