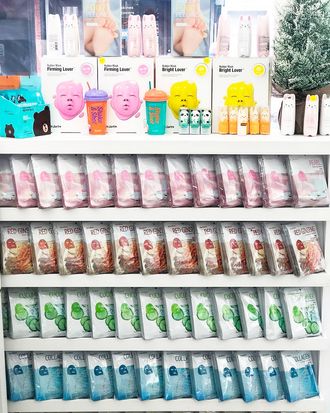 The Mask Bar.
Photo: themaskbar.bleecker/Instagram
You guys! Your friend Busy Philipps made an important discovery over the weekend, and like the good friend she is, she immediately shared this gem with you … on social media. While visiting New York, Philipps hopped on the tourist circuit. She saw a Broadway show, she dined al fresco, and she happened upon a skin-care gold mine. Wait, what? Let's examine that last bit.
Philipps found The Mask Bar and purchased "no less than twenty new masks," she wrote on Instagram. The Mask Bar is an oasis of — you guessed it — masks. There are two of these Korean beauty–inspired stores in New York: one in the West Village, and one in Soho. Both have quietly flown under the radar of the skin-care internet.
There are rows and rows of masks at The Mask Bar. Most, likely to Paula Begoun's chagrin, are sheet masks. Need a charcoal-infused solution to clean out your pores? How about a shea butter sheet to help moisturize? Don't pass up the store's cherry mask, which heals cracked lips, or this "hydrogel eye patch." What does it do? Unclear! But wear it and you'll look like Catwoman.
What's great about The Mask Bar is that most of the masks are pretty cheap; there are plenty that fall in the $2 to $5 range. The store carries other skin-care goodies besides masks, too. Even if you aren't in New York, you can see what the fuss is about through their online store. So if you're like Philipps and get emotional at the sight of all of those cute sheets, at least you can cry in the privacy of your own home.