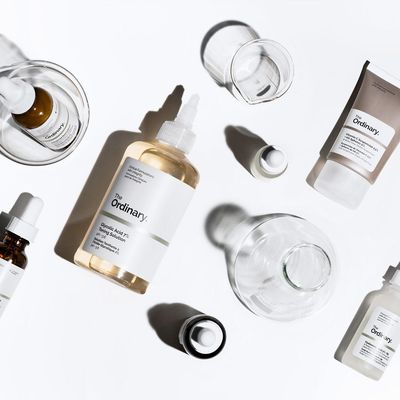 Photo: Courtesy of Deciem
Much-loved affordable skin-care line The Ordinary will no longer be available at Sephora. After joining the retailer about six months ago, the brand will be moving to Ulta. Women's Wear Daily confirmed the news this morning. "While it is disappointing that Deciem has decided to change direction, we remain committed to evolving our unrivaled range of skin-care products to meet the needs of our clients," a Sephora spokesperson said.
About a month ago, customers and Reddit's Skin Care Addiction forum started noticed that a search for The Ordinary products on Sephora's websites didn't yield any results. Brandon Truaxe, the founder and CEO (or, as he puts it, "worker") of the Ordinary's parent company Deciem, told an Instagram commenter about the upcoming shift in retailers. "We are leaving Sephora due to payment issues but will launch online and in stores with Ulta and Douglas imminently." The Ulta move is happening ahead of schedule, with WWD reporting that it was originally slated for 2019. It's unconfirmed at this time when the products will become available at the site.
This news comes following some volatility for the company. In the past few months, Truaxe has fired high-level personnel, including his former co-CEO Nicola Kilner. Customers have also been worried about the company's viability following streams of mysterious Instagram posts. Last month, Truaxe published an open letter on Deciem's site, explaining some of the past drama from his point of view.
WWD obtained a statement from Estée Lauder regarding this retailer shift: "The Estée Lauder Cos. is a minority investor in Deciem and as such, we are not involved in the company's day-to-day operations. We have seen the potential in this brand and its innovation capabilities."