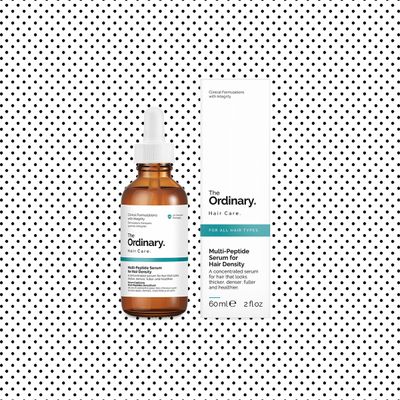 Yes, Deciem is still doing what it does best: making beauty products. Despite customer concerns about product stock and company viability after founder Brandon Truaxe's erratic Instagram content and latest open-letter allegations, the brand released several new launches today.
Two new products come from the adored affordable skin-care line the Ordinary and they're both under $20. In typical Ordinary fashion, the brand's first-ever hair-related product is directly named after its formulation. "Multi-peptide serum for hair density," according to the brand's website, is designed to help with thinning-hair concerns, helping it look "thicker, denser, fuller and healthier." It includes a lot of mysterious botanical ingredients like "larix europaea wood extract" and multisyllabic, synthetic ones ending in -oy and -tyl, such as "Acetyl Tetrapeptide-3." With some deep Googling and parsing of science jargon, you can see that all of the ingredient formulations appear to be beneficial to hair.
The Ordinary's second new product comes to you courtesy of a healthy pudding: 100% Organic Virgin Chia Seed Oil. The brand explains that this is a multipurpose oil you can use to hydrate your skin and your hair. Chia seeds are primarily rich in linolenic acid, a fatty acid that cosmetics cop Paula Begoun explains is a known for being "skin conditioning" and "skin restorative." This retails for less than you most likely paid for lunch: $8.
The last new product is Petrowhat?, a lip balm in a tube from Deciem's subline, Abnomaly (the company has ten sublines). Instagram users noticed a few months ago that Truaxe appeared to be puzzling over a tube of Glossier's Balm Dot Com (the @Deciem account denied this to a commenter). Some think Petrowhat? looks Glossier-inspired but the formulas are different. As the name suggests, Petrowhat? doesn't contain petrolatum (an ingredient that makes up Vaseline and also what is found in La Mer). The brand explains that its base is plant-based, with squalane, baobab, and amino acids to create a multiple use all-purpose balm. It comes in four flavors including guava milk, original, coconut, and pineapple for $7. And everything is still in-stock, for now.
If you buy something through our links, New York may earn an affiliate commission.