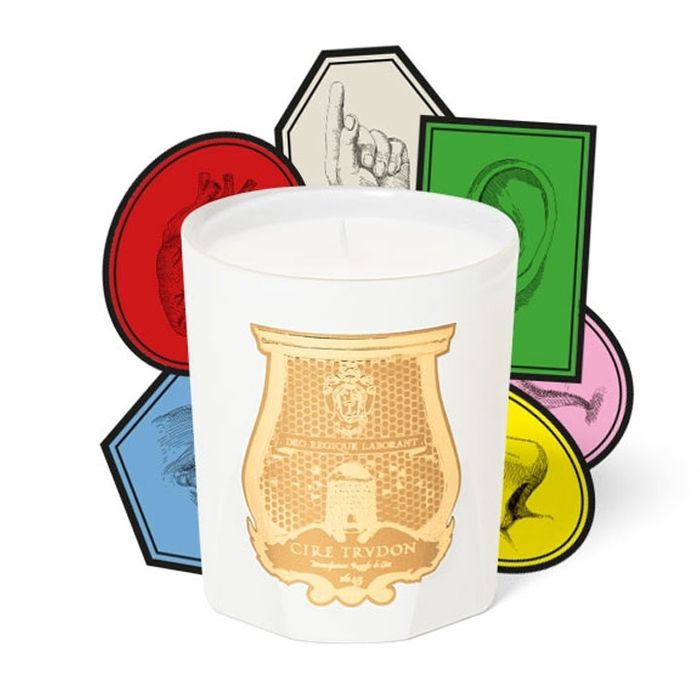 She's beautiful.
Photo: Courtesy of brand.
Every candle is perfect for someone. The Perfect Candle is a weekly review of new candles that lets you know whom, and why.
So many scented candles lack a sticker element. Whether this is intentional or simply due to carelessness I cannot say, but Cire Trudon has set out to fix this oversight with its new, limited-edition "SIX" candle, which was sent to me in the mail and which I will put to the test for your benefit. The candle comes with a set of colorful sense-themed stickers (sight, smell, and so on) that one can use to decorate the candle's white vessel to one's liking. I decorated mine while watching an episode of The West Wing at 1 a.m and I must tell you — she is quite handsome as a result.
Why sense-themed? I'm glad you asked. The candle is named SIX not after Blossom's best friend but instead, according to Cire Trudon, as "an allegorical take on the 6th sense, the heart."
I know what you're thinking. "But isn't the sixth sense ghosts?" Yes, I was also under the impression that the sixth sense was ghosts. It's a theory supported by the fact that "the sixth man," from the movie The Sixth Man, is also a ghost. But I guess according to the Pixies the devil is six, so maybe it's up for interpretation after all.
According to Cire Trudon, this is what the candle smells like:
SIX's perfume revolves around a floral scent: white flowers and a lingering hint of monoi are an invitation to escape. Reassuring, the new scented candle further explores the mysteries of the heart: if the smell of carnation arouses memories of old lipsticks, touches of jasmine and vanilla picture a tropical landscape.
I love it. There is truly no finer reading than the description of a candle. If only Jack Handey wrote candle descriptions my life would be slightly better. The candle offers head notes of bergamot and gardenia, heart notes of carnation, jasmine, and ylang-ylang, and base notes of lily and vanilla. It sounds great — but is it?
Let's discuss the candle further, in terms of four rubrics: "Is the candle good," "How much does it cost, and how long will it last," "When should you burn this candle," and "Who should buy this candle."
Ready?
Is the candle good?
Cire Trudon candles are, in general, always good. Even if you don't like the scent of a Cire Trudon candle particularly, it would be dishonest to come away from a whiff without admitting that the candle, whichever candle it may be, is good. The scents are interesting and always signal life rather than perfume. And they will make someone who enters your home while you're burning the candle think, "This certainly smells compelling if not exactly my taste."
Though this particular floral profile is not necessarily what I would choose for myself — the ylang-ylang and vanilla beneath the gardenia make it a bit heavier than what would fit my personal taste — it is certainly good.
How much does it cost, and how long will it last?
Cire Trudon candles are "extreme treat candles," for when you need a very fancy and irresponsible treat — like when you decide to spend $6 on a donut. This candle is typically $90; the fact that it is limited edition and not easily found everywhere seems to have thrown off Cire Trudon's typical price point, which is $95 to $105. A discount, just for you. Burn time is 55 to 60 hours, which is more than two whole days, if you can believe it.
When should you burn this candle?
I would say this is mainly a candle for the spring or summer, but it's also heavy and warm enough to work as a pick-me-up candle in the winter months without seeming odoriferously out of place. Sometimes in the wintertime, though I have to admit not often, you need to smell something other than a pine tree campfire. It's fine. This would be good for that. Ideally you would burn this candle while getting ready to go out to a warm-weather night date early in a relationship.
Who should buy this candle?
Someone who loves gardenias and romance, and is intrigued by by the prospect of a very constricted outlet for creativity. Perhaps someone longing for the days of a Catholic school uniform.
If you buy something through our links, New York may earn an affiliate commission.