Alexandra Waldman just wanted something simple. For years, the size 20 former fashion journalist had tried to find clothing that felt like "her," to little avail. Even the stores that did stock her size dealt almost exclusively in infantilizing slogan tees done out in rhinestones, mediocre prints on mediocre prints, handkerchief-hemmed everything, or dramatically "nipped in" waists.
Before founding her label Universal Standard with Polina Veksler in 2014, Waldman faced a struggle familiar to many women whose measurements deviate from mainstream fashion ideals, and whose personal style deviates from the clashing, overwrought, or inescapably twee aesthetics pushed by many plus retailers. The few brands that do cater to size 12+ shoppers tend to treat clientele as if they all want the same looks — a notion Waldman sees as absurd.
What Waldman really wanted was the kind of clean, simple, no-fuss style presented by brands like Céline in the luxury world and Everlane in the fast-fashion space. But up until recently, the only options for shoppers like her were pricey, minimalist-adjacent menocore brands like Eileen Fisher and Marina Rinaldi, and edgy online boutiques like Mei Smith and Hey Gorgeous, who sold their Helmut Lang- and Theory-inspired pieces around the periphery of the plus-size scene. But today, it seems, the style tides are turning — not only with the continued growth of Universal Standard, but with an influx of thoroughly modern, meticulously curated new plus-size lines and shops like Van Der Nag, And Comfort, MM.LaFleur's First Addition, See Rose Go, and Coverstory.
Plus-size fashion is having a luxe, "feminine minimalist" moment, as Waldman puts it, full of the ethically produced, high-quality, easy-looking but rigorously tailored silhouettes she'd dreamt of all along. For a demographic whose curves have so often been "created" and "concealed" with fit-and-flare skirts or peplums, regardless of taste, the change couldn't have come soon enough.
"I think until recently, brands were simply basing decisions on chance — the good ol' throw it against the wall and see if it sticks mentality," says Meaghan O'Connor, stylist and blogger at Little Lime Dress. "It worked, sort of, for so long because there was so little real 'fashion' available in the plus space; but now, mainstream labels are expanding their size ranges, indie plus designers are finally getting the attention they deserve, and even decades-old plus brands are switching it up. The diversity of offerings means easier shopping and better styling options," says O'Connor. "So from my perspective, this is major."
Indeed, the plus apparel market's offerings are improving and diversifying in general, as evidenced by All67 (whose handmade leather jackets feature curved lower backs to accommodate plus-size hips and butts), the SIKA Collection (cocktail dresses for size 10 to 22), and Warp & Weft (premium denim up to size 24) in the luxury-ish, direct-to-consumer space. Beloved brick-and-mortar stores like Madewell and J.Crew have begun expanding their plus-size offerings, however slowly, and venture capital–backed luxury sites like 11 Honoré (which stocks black tie–friendly gowns and McQueen-ish mutton sleeve dusters) are beginning to crop up.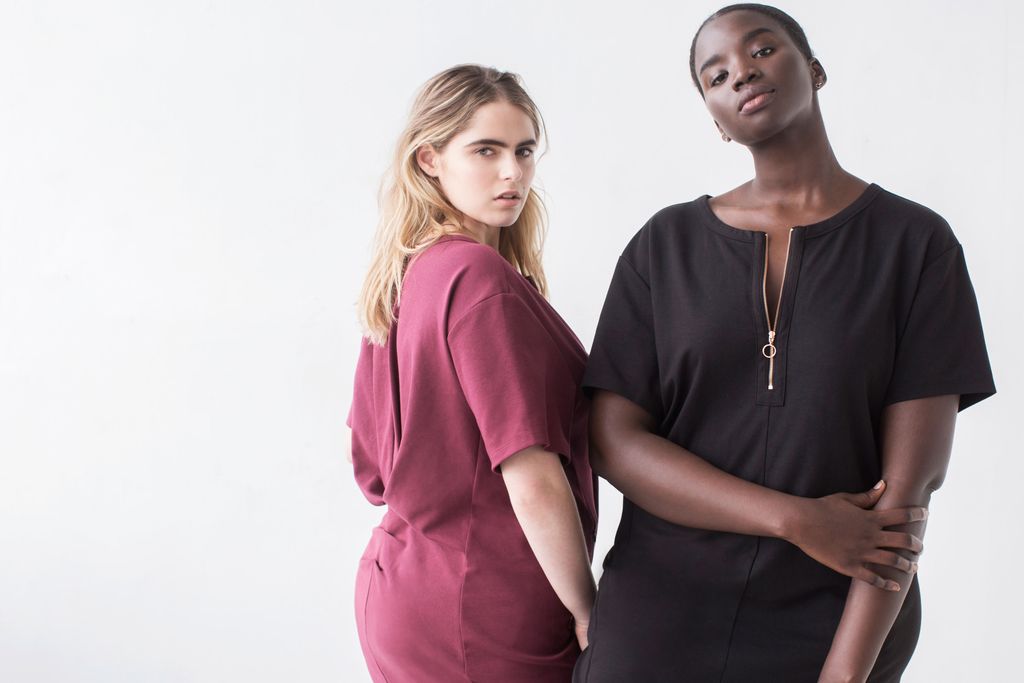 But in contrast to more opulent or theatrical designers, Waldman says she's found the key to minimalist success in seemingly tiny details — ever-so-slightly curved skirt hems, tank straps widened just enough to cleanly cover large-bust bras, and "micro-graded" collars that get larger in tandem with their garment's tag sizes so as to look "native to the larger body," to name a few. The goal is that these changes should be barely perceptible. It's the opposite of "throwing it at the wall." For a population that's been historically deemed undeserving of investment pieces, this caring craftsmanship is a major symbolic shift.
"The simplest things are often the hardest, because there's nothing to hide behind," says Waldman. "I think that's the truth across every medium. So we pay an enormous amount of attention to the engineering of clothing; that is the path we chose."
To be sure, none of this comes cheap: Instead of BOGO deals à la Lane Bryant or constant coupon codes like Torrid, many of these new minimalist brands have price points in the $100 to $400 range. (Waldman, in fact, notes her company's conscious decision never to hold sales.) But even that's a significant sign: It suggests retailers have finally realized that plus-size women have money to spend.
Bethany Rutter is a London-based blogger, author of PLUS+ : Style Inspiration for Everyone, and social editor for online department store Navabi, which has served plus customers of different shapes, styles, and budgets since 2008. She's one of three influencers so far to have collaborated with the brand on their in-house capsule collections, releasing a line of retro and modern silhouettes in candy colors in 2017. And she's excited to see more restrained lines emerging, too, like the store's recent drop with Isabell Decker of Dressing Outside the Box.
"I look at the offerings from many plus brands, and they're all so oriented around a vision of femininity — especially 'fat woman femininity' — that just doesn't reflect my style at all," says Rutter. "I'm really grateful for brands that are filling the gaping hole in the market for more minimal styles, not least because these styles often more closely resemble those designed for non-plus lines. I like the idea that I'm not automatically expected to want or need different styles because I'm fat."
This is the simple — but historically ignored — idea at the center of this shift: Plus-size women want to be a part of the current fashion moment in comfortable, well-made clothes, and without the embarrassment or other anxieties of traditionally exclusionary shopping experiences.
"Clothing is important," says Waldman. "It's our armor, and it's the first and sometimes only impression we get to make. But when you're incredibly marginalized and limited in your choices, that can really infringe on your sense of self — this very integral part of confidently moving through the world.
"I walk by the same store windows as straight-size people," says Waldman. "It's not like my taste is totally different from everyone else's just because I wear double-digit sizing. If you're designing something that a size six, with all her options, wouldn't want to wear, then you shouldn't design it for a size 16."