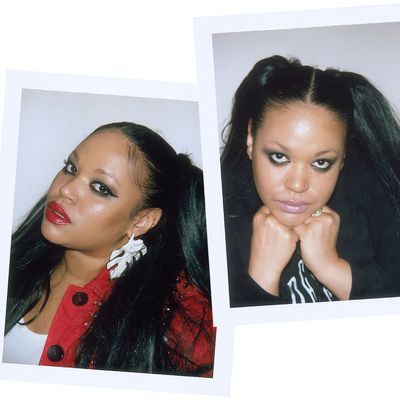 Left: BEARCAT wears a Bottega Veneta dress and Mulberry earrings. Center: BEARCAT wears her own clothing; Right: BEARCAT wears a Bottega Veneta dress and Mulberry earrings.
Photo: Lucas Michael
Listening to BEARCAT's DJ sets, it's clear that there's something there other than high-energy club music. As BEARCAT (born Kerrie-Ann Murphy) says on her website, music is her therapy and draws from "deeply personal experiences and diaspora roots." The London-born, Philadelphia-based musician has performed in Egypt, Paris, and Mexico City, worked on creative direction for Afropunk, and made the soundtrack for Chromat runway shows. We spoke with her about the London punk scene, Teen Vogue's woke renaissance, and what happened to her in a moon hut.
If you could be a magazine, what magazine would you be?
I think Nylon is cool. But also Teen Vogue is one of the most progressive outlets out there, right now. I'm definitely not a teenager, but I feel like the material that comes out of Teen Vogue is really necessary and important. They're spot on, which even surprises me.
If you could speak to animals, which animals would you want to talk to?
I would love to speak to bears and cats, to be honest. I'd like to tell them not to attack me. Friend, not food, you know?
Sneakers or slippers?
Sneakers all the way. I've broken both my ankles before so I'm always in sneakers.
What's something your social-media followers don't know about you?
A lot of my social-media followers don't know that I started out in punk bands. I used to sing with an artist called Ebony Bones and we toured the whole of Europe. I think I was 19 when I joined. We did a good run for two years of shows. When that all finished I needed an outlet and DJing became my outlet. I needed something, but couldn't fabricate a full band out of thin air. But honestly I'm trying to go back to the live performance aspect of it. I play high-energy club music, but what comes out when I'm making music is grunge, punk, and live-sounding instrument sounds. But I feel like the majority of the people who follow me now on social media don't know this part of me.
What was the last website you looked at?
The Chinatown bus website. Now I live in Philadelphia and I just came in the city for this so I'm always on the bus.
If you could be outfitted by one designer for the rest of your life, who would it be?
Iris van Herpen. One day I'd love to have a music video and get dressed in that.
What time is your alarm set for in the morning?
I have a natural alarm clock in my brain that goes off at 7:30 in the morning, every morning. Sometimes I can utilize that time really well and meditate and go to the gym. But at moments when I really need to rest and recover, it's not that great. I spent two months in New Mexico in a moon hut in 2014 and something just happened there and after that I can't sleep in.
What do you eat for breakfast?
I'll either make a smoothie with amino acids, lots of ginger, and chia seeds. Or I'll eat oats or boil an egg. And sometimes I won't eat and break my fast when the sun is down. Intermittent fasting has made me feel a lot better.
If you could only eat three things for the rest of your life, what would they be?
Smoked salmon, rice, and vegetables.
What piece of clothing or accessory makes you feel most like yourself?
A black hoodie, a really big one.
If you were a color, what would it be?
Petrol. It has a purple base, but there's that rainbow that petrol gets when it hits the floor.
If you could be trapped in an elevator with one person, who would it be?
Malcolm X.
If you could tell Donald Trump one thing and make sure he would listen, what would it be?
Anything I could say to trigger some kind of empathy in that man. I'd suggest he read The New Jim Crow. Everyone needs to read that book, especially white people. It's kind of painful to read, but that's my hope maybe he'll read The New Jim Crow and be like "Whoops, never mind, I take it all back."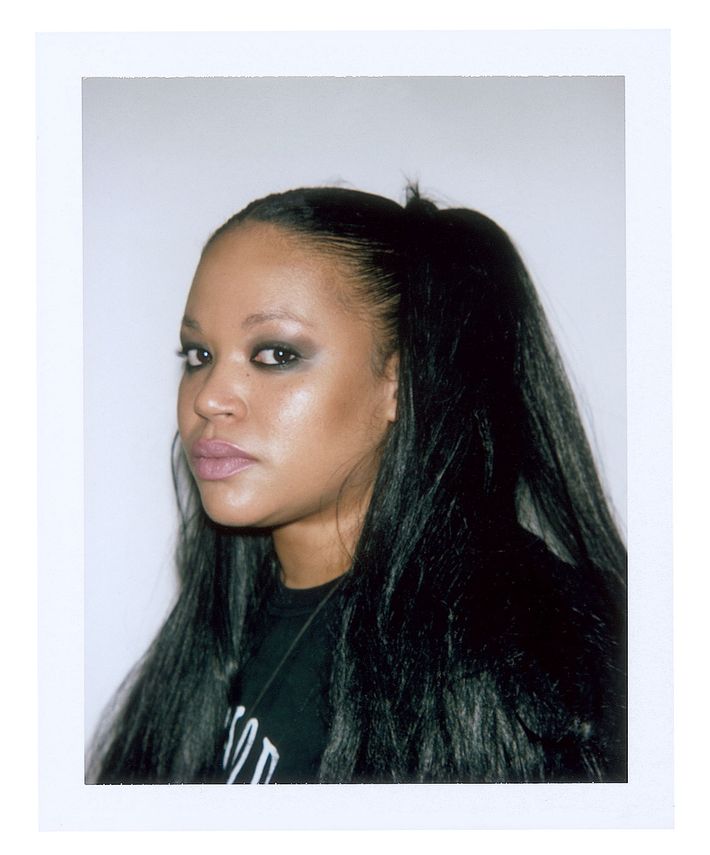 BEARCAT wears Mulberry Leaf earrings, $425 at Mulberry, and a Bottega Veneta cotton dress, $5,300, call 800-845-6790 for information.