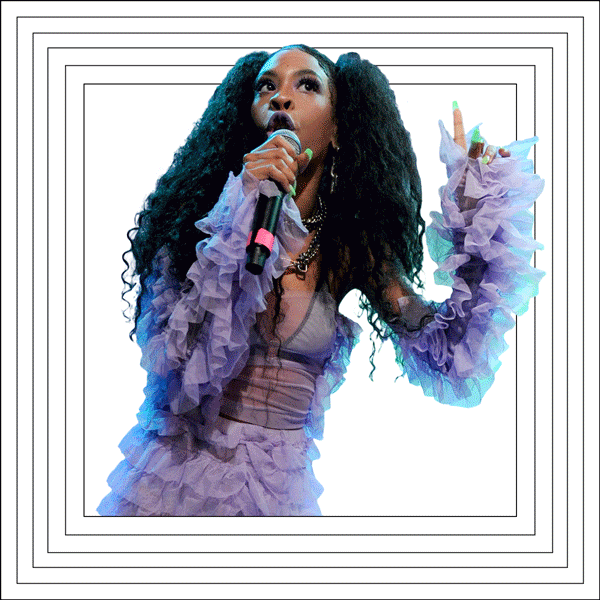 Photo-Illustration: by Stevie Remsberg/Photos Getty
I Love This Song! is a Friday guide to the week's new albums, mixtapes, playlists, singles, loosies, collaborations, and/or diss tracks.
I've loved Baltimore-born Rico Nasty ever since last summer, when she gave me permission to put people on my Block List and gloss my lips to max lip-smacking saturation (pre-Rihanna, just saying). She's fun. Listening to her makes everything else a lot more fun, too.
This summer we've seen a lot of new rap, and a lot of it has been an overbloated spectacle (some artists need to check their Ye-go) — it's yielded a lot of talk but low returns on music that you'll actually enjoy. Rico Nasty's debut Nasty is the cure for that. She's a character with about as many different attitudes as she has vibrant wigs, and they all show up on this album. She laconically raps about counting racks (fun!), being nasty (really fun!) and eating your vegetables so you can stay runnin' the game (fun and necessary). Not every song not the album is great, but "Ice Cream" is.
"Ice Cream" captures everything fun about summer: sweet treats and scamming men. She literally took the most beloved sound of the season — the ice-cream-truck jingle — and repurposed it into a singsong-y, filthy hit with a hard-ass beat. Expertly describing what her hoo-ha tastes like when you lick it (Strawberry Yum-Yum), she reminds you that this is the season to realize you're in as high demand as Mister Softee in the middle of a heat wave.
And as a bonus here are more fun songs by people who are clearly enjoying themselves this summer, as we should:
"Countin' Up," Rico Nasty: Another standout song from the album celebrates making so much money, because making so much money is fun.
"Trust Me, Bhad Bhabie (feat. Ty Dolla $ign): Do people like Danielle Bregoli, a.k.a. Bhad Bhabie, a.k.a. L'Enfant Terrible of music? Does Danielle Bregoli care? Obviously not. She just dropped a song with Ty Dolla $ign that I'm gonna love anyway.
"Bed," Ariana Grande and Nicki Minaj: Ariana Grande started dating Pete Davidson, made it Instagram official, got engaged before the raw chicken in my fridge even went bad. Lil Ari is currently living her best life, and Nicki Minaj is never not living her best life, and with this horny-ass song, may we all live our best lives too.