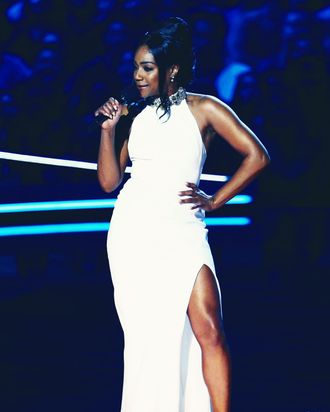 Tiffany Haddish.
Photo: Rich Fury/Getty Images
"Welcome back to my Alexander McQueen dress," Tiffany Haddish said with a laugh when she took the stage on Sunday at the MTV Movie & TV Awards, which aired Monday night.
The actress loves this particular white, halter-neck dress so much, she's worn it four times in public: at the Girls Trip premiere in 2017, on Saturday Night Live in November of that year, while presenting at the Oscars back in March, and now at the MTV awards. We also think we spot it in the trailer for her upcoming film, Nobody's Fool. So make that five.
For the average person, repeating a favorite dress is standard. But not for celebrities like Haddish, who presumably has the whole Alexander McQueen store at her disposal.
"I feel like I should be able to wear what I want, when I want, no matter how many times I want, as long as I Febreezed it," Haddish said of her dress on SNL.
Haddish is open about the fact that the dress cost her $4,000. (Yes, she paid for it.) "This dress cost way more than my mortgage," Haddish added on SNL. At this point, though, the dress has paid for itself as one of Haddish's most successful bits.
Will it ever get old? When Haddish is done with it, she should sell it on the RealReal like actress Rachel Bloom.