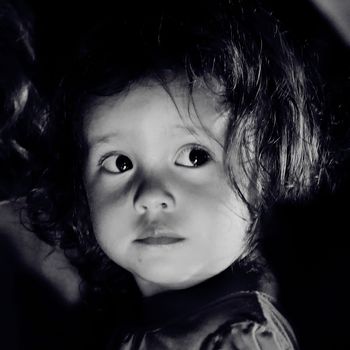 A 2-year-old asylum seeker from Honduras and her mother.
Photo: John Moore/2018 Getty Images
Babies and toddlers who have been forcibly separated from their families are held in "tender-age" shelters at the U.S.–Mexico border, the Associated Press reports. There are three of these facilities for children under 13 years old at the border, with plans to open up a fourth in Houston.
Up until AP broke the news of the facilities, it had been difficult to get information about where the youngest children were being held. Under the new "zero-tolerance" policy, every child who enters the country with their parents is treated as an "unaccompanied minor" and sent into government custody alone, while their parents are prosecuted for entering the country illegally. One mother said that her child was taken from her as she was breastfeeding.
Doctors and lawyers who have visited the facilities have said that they are technically safe, but the children are in distress. Those who have visited the tender-age facilities in the Rio Grande Valley described them as "play rooms of crying preschool-age children in crisis."
"The thought that they are going to be putting such little kids in an institutional setting? I mean it is hard for me to even wrap my mind around it," Kay Bellor, vice-president for programs at Lutheran Immigration and Refugee Service, which provides child welfare services to migrant children, told the AP. "Toddlers are being detained."
Government officials have denied that detaining young children in this way is inhumane. Stephen Wagner, an official at the Department of Health and Human Services, told AP, "They're not government facilities per se, and they have very well-trained clinicians, and those facilities meet state licensing standards for child welfare agencies, and they're staffed by people who know how to deal with the needs — particularly of the younger children." While Wagner said 13 was their cutoff, Customs and Border Protection has sometimes defined it as under 5.
All in all, 2,342 children of all ages have been ripped from their parents and placed in facilities as of Tuesday. Officials from law enforcement and Health and Human Services didn't know how many children were under 5, under 2, or even younger. Away from their parents, they are unaccompanied minors in government care. Horrifying audio and photos of the distressed children have spurred mass protests and fundraisers for groups trying to help at the border.
Colleen Kraft, M.D., president of the American Academy of Pediatrics, told CNN earlier this week (before AP broke the news of the tender-age facilities) the detention centers at large were "nothing less than government sanctioned child abuse" and the long-term stress could affect their development.
"I can't describe to you the room I was in with the toddlers," Kraft said of a detainment center she had toured. "Normally toddlers are rambunctious and running around. We had one child just screaming and crying, and the others were really silent. And this is not normal activity or brain development with these children."
MSNBC host Rachel Maddow started crying on air when she learned of the "tender-age facilities," passing off the report to Lawrence O'Donnell to finish delivering the breaking news.
The fourth tender-age facility, planned for Houston, has not yet been opened. Mayor Sylvester Turner has denounced the fourth shelter, which would be in a warehouse in the city, previously used for Hurricane Harvey victims. "And so there comes a point in time we draw a line and for me, the line is with these children," said Turner during a news conference Tuesday.
There are more ways we can help families separated at the border. Please see here.