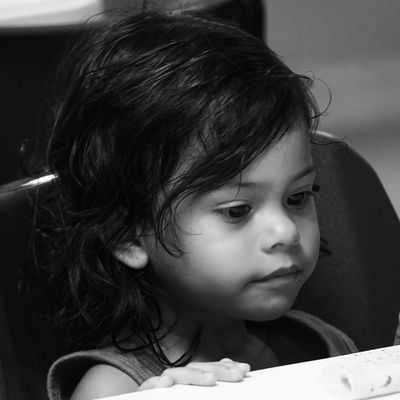 A young girl looks at a cup of soup handed to her by volunteers in a migration center in the border town of McAllen, Texas, on June 14, 2018.
Photo: Gianrigo Marletta/AFP/Getty Images
With thousands of immigrant families still reeling from the fallout of the Trump administration's short-lived and inhumane family-separation policy, children as young as 3 are being ordered to appear in immigration court alone, the Texas Tribune reports.
Immigration lawyers in Texas, California, and Washington, D.C., told the Tribune that unaccompanied minors have previously been required to appear alone in court, but the family-separation policy has meant that the children are now younger and more numerous than ever before.
Lindsay Toczylowski, the executive director of Immigrant Defenders Law Center in Los Angeles, said she and her team recently represented an unaccompanied 3-year-old in court, "and the child — in the middle of the hearing — started climbing up on the table."
"It really highlighted the absurdity of what we're doing with these kids," she said.
Last week, the AP reported that babies and toddlers who were torn away from their guardians at the border were being held in so-called "tender-age" shelters for children 13 and under, though Customs and Border Protection has defined it as ages 5 and under.
"I can't describe to you the room I was in with the toddlers," Colleen Kraft, the president of the American Academy of Pediatrics, told CNN after visiting one of the shelters. "Normally toddlers are rambunctious and running around. We had one child just screaming and crying, and the others were really silent. And this is not normal activity or brain development with these children."
Attorneys and pediatricians agree that it is absurd to expect a child to be able to advocate for themselves in court. As Toczylowski points out, some of the children might not even know why they and their parents fled their homes.
Steve Lee, a child psychology professor at UCLA, told the Tribune that expecting young children to testify on their own behalf is "incredibly misaligned," adding, "That couldn't be any less developmentally appropriate."
It is unclear how many detained children still need to be reunited with their parents. On Tuesday, Secretary of Health and Human Services Alex Azar told a congressional committee that 2,047 children were still in HHS custody. That same day, a federal judge ordered the White House to reunify families within 14 days if the children are under 5, and within 30 days if they are older. Attorneys involved in these cases told the Tribune they are not sure when this order will take effect, or how it will work.