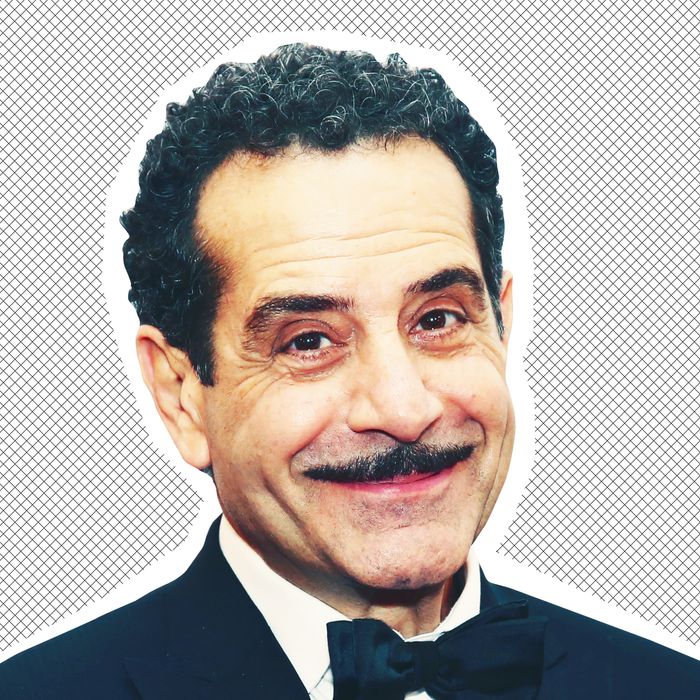 When it's the Shalhoubaissance.
Photo: Walter McBride/WireImage
I've been a fan of Tony Shalhoub for as long as I can remember. Shalhoub is Lebanese-American, and when you're of Middle Eastern heritage, you have a continually updating mental database of every single celebrity who's of a similar ethnic background. (Did you know Wendie Malick from Just Shoot Me! is part Egyptian? Now you do.) More so, Shalhoub bears such an uncanny resemblance to my great-uncle Ramses that you can't mention either of them in a conversation with my family without somebody remarking at the similarity. This has been happening for so many years that, as far as I'm concerned, Shalhoub is an honorary relative.
But even if you don't have a lookalike uncle named after a pharaoh, there is much to love about Tony Shalhoub. When he grows a mustache, it is both lush and broad — one of the great mustaches of the screen and stage. His eyes have a perpetual twinkle about them, as if God plucked two stars from the sky and gave them the distinct honor of starring in a long-running USA network series. He has both impeccable comedic timing and well-honed dramatic chops.
So it is with much excitement that I can report that Tony Shalhoub is having a moment. The past few years have borne the McConaissance, the Dernaissance, the Efronaissance, and, more broadly, the Nunnaissance. Now, at long last, my prayers have been answered: we are firmly in the Shalhoubaissance. Shalhoub has been a working actor for decades now, with his most famous roles being Primo in the 1996 Italian food film Big Night and Adrian Monk in Monk, the aughts comedy-drama about a detective with obsessive-compulsive disorder. (While we're on the topic of Big Night, Shalhoub and his co-star Stanley Tucci are coincidentally entries one and two on my personal "would be devastated if they're outed as a sex predator" list.) But for a while, things were looking a bit bleak for Shalhoub. His IMDb page lists such entries as "Luigi" in Cars 2, Cars 2: The Video Game, Cars 3, and Cars 3: Driven to Win (Video Game) and "Voice of Splinter" in Teenage Mutant Ninja Turtles: Out of the Shadows.
Two roles have since propelled Shalhoub back into the hearts and minds of America. One is Abe Weissman, the rigid father of the eponymous character in Amy Sherman-Palladino's delightful period comedy The Marvelous Mrs. Maisel. Shalhoub is wholly brilliant and wholly grumpy; in a generally excellent series, you'll find yourself relishing his scenes in particular.
There's also his portrayal of Egyptian band leader Tewfiq in The Band's Visit, the highly acclaimed stage adaption of the 2007 Israeli film. Shalhoub recently won the Tony for Lead Actor in a Musical, and gave an acceptance speech so heartfelt that I think it deserves another Tony.
Because nothing gold can stay, and because I'm a naturally anxious person, I'm finding myself already nervous about the Shalhoubassiance ending — which feels like exactly the right way to enjoy it. But in the meantime, I'll offer a humble plea: just put Tony Shalhoub in everything.