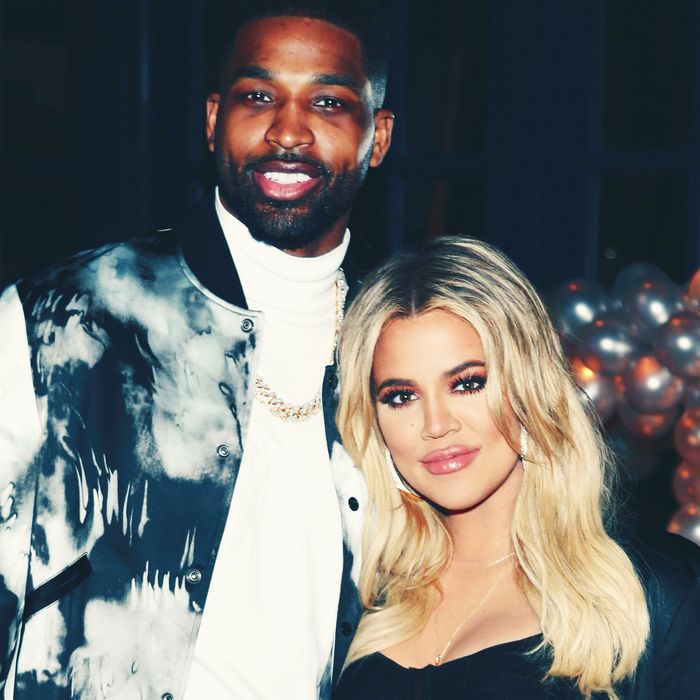 Tristan Thompson and Khloé Kardashian.
Photo: Jerritt Clark/Getty Images
If any celebrity deserves a big birthday present this year, it's Khloé Kardashian. And Tristan Thompson, her boyfriend who cheated on her (repeatedly) while she was pregnant should be the one giving it to her. And while we don't know yet what physical presents he got her, he did unblock her sister Kim Kardashian on Instagram.
To be fair, Kim kind of cornered him into it. She documented the exchange on her Instagram Story. "All right guys, what do you think? It's Khloé's birthday, should I ask this guy to unblock me?" she said. Thompson replied, "For Khloé's birthday it's only right. I got you."
As of press time, Tristan was still following Kim on Instagram (she gave him the follow back). But two other important things were revealed: (1) Khloé now knows his phone password and (2) Thompson had also blocked the Haqq twins, Khadijah and Malika. So far, Thompson has not followed them either.
Kim had been the most outspoken sister against Thompson following the cheating scandal. She said the whole thing was "so fucked-up," on Ellen. More reports surfaced that Kim was "counting down the days" until Khloé left Tristan. For her obligatory Instagram post for her sister's birthday, Kim admired her strength and ability to follow her heart, which sounds a lot like what she said about Khloé right after calling the situation "fucked-up" on Ellen.
But, she and Tristan are IG friends now, so all's well that ends well in Calabasas.