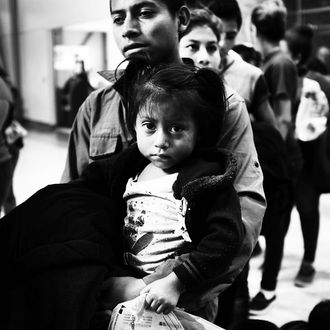 A Guatemalan father and his daughter at a bus station following release from Customs and Border Protection in McAllen, Texas.
Photo: Spencer Platt/Getty Images
On Saturday evening, the Department of Homeland Security and the Department of Health and Human Services released a joint statement outlining its alleged plan to reunite 2,053 migrant children with their parents, from whom they were ripped away under the Trump administration's family-separation policy.
Before making this announcement, the current administration had no formal protocol to guarantee that separated migrant families were deported back to their home country together. Now, there's at least a process — but one that seems exceptionally difficult, and not one that cannot reverse the extreme trauma that separated families have already faced. According to the statement, once migrant parents go through deportation proceedings — which can take anywhere from days to years — they can attempt to find their children and be deported together.
"The Department of Homeland Security (DHS) and Health and Human Services (HHS) have a process established to ensure that family members know the location of their children and have regular communication after separation to ensure that those adults who are subject to removal are reunited with their children for the purposes of removal," the statement reads. However, if the parental relationship cannot be confirmed or U.S. Immigration and Customs Enforcement believes the adult to be "a threat to the safety of the child," reunification will not be an option.
The statement also claims that the U.S. government "knows the location of all children in its custody and is working to reunite them with their families." But as of this Friday, only 500 immigrant children had been released from detention centers, where they lived under prison-like conditions, and reunited with their parents.