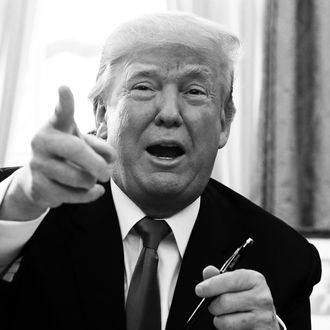 Trump.
Photo: Chip Somodevilla/Getty Images
As his administration faces widespread criticism for its treatment of migrant families, President Trump addressed the issue of immigration at the White House today. He brought along "Angel Families" — people whose relatives were killed by undocumented immigrants — and derided the media, Democrats, and people who are "weak on immigration" for ignoring their stories of "permanent separation."
Many of those family members also spoke at today's event, and were holding large photos of their late loved ones — some of them signed by the President. It was while introducing Agnes Gibboney, whose son Ron was murdered, that Trump chose a curious moment to make a joke about the photo in her hand.
"This is Tom Selleck," he said. "Except better looking, right?"
Not only does the data show that undocumented immigrants don't commit more crimes than the rest of the general population — they may even lead to a decrease in crime in certain areas.