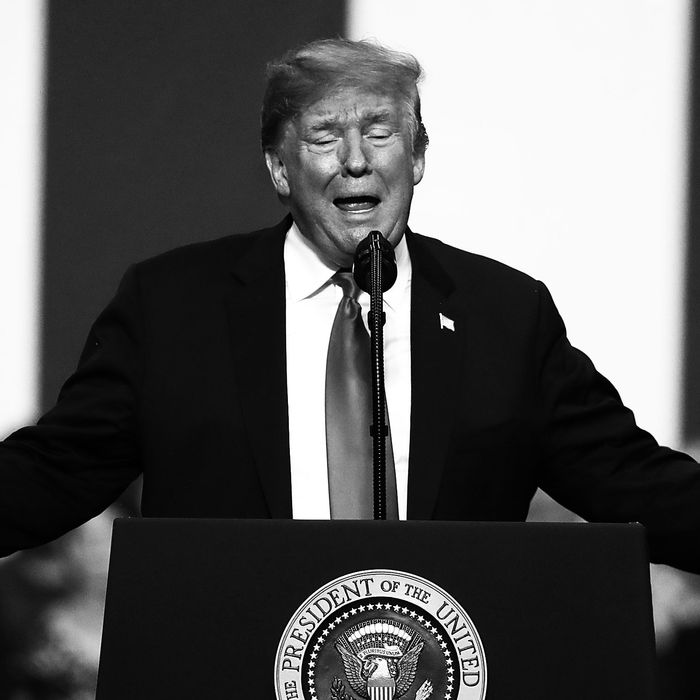 Donald Trump.
Photo: Justin Sullivan/Getty Images
Hey ladies, are you worried that your reproductive rights are under attack? That the country is currently being led by a man accused of sexual assault? And that many of the brutally separated immigrant parents and children have yet to be reunited at the border? Well, you can rest assured, because President Donald Trump has some good news: His wife, Melania, and daughter Ivanka "love the women."
At a Wednesday-night rally in North Dakota — during which the president once again incorrectly claimed Representative Maxine Waters called for his staffers to be assaulted — Trump bragged about his wife's and daughter's relationships with women. First, Trump spoke of Ivanka's role in promoting a child tax credit. "Darling, nobody knows what that is," he said that he told Ivanka (per Wall Street Journal reporter Rebecca Ballhaus), to which she replied, "The women know."
Then, Trump took things a bit further. He continued, "My daughter and my wife Melania, they love the women, and the women love them."
Good to know! Trump may have vowed to only nominate Supreme Court justices who will overturn Roe v. Wade, which would jeopardize women's constitutional rights to liberty and privacy, in addition to ensuring that many women will die. But at least Ivanka (who received an "F" from the Center for American Progress for her work on women's issues) and Melania (who wore a jacket with the words "I really don't care, do u?" painted on the back to visit detained immigrant children) "love" us.
Please excuse us women as we scream into the void.