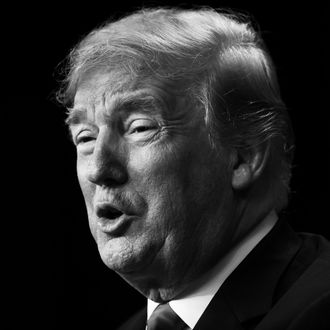 Donald Trump.
Photo: Eric Thayer/Bloomberg via Getty Images
After Supreme Court justice Anthony Kennedy announced his resignation on Wednesday, Donald Trump told reporters that he will "immediately" begin the search for a new justice from his preprepared list of potential candidates. While the extremity of the nominees' stances on issues vary, the appointment of any would almost certainly be detrimental to reproductive and LGBTQ rights.
In November 2017, the White House released a list of 25 potential candidates that Trump would nominate to serve on the highest federal court; Trump said today that he will choose his nominee from this list. With Kennedy's departure, the cohort of pro-choice judges loses a member, meaning the reproductive-rights movement loses its swing vote.
Trump has explicitly stated in the past that he hoped to appoint a judge who would overturn the landmark abortion-rights decision Roe v. Wade. At the final presidential debate, when asked if he would strike down Roe, he responded, "Well, if we put another two or perhaps three justices on, that's really what's going to be — that will happen. And that'll happen automatically, in my opinion, because I am putting pro-life justices on the court."
As evidenced by his continued insistence on picking from this list of 25 potential nominees, it appears that Trump's sentiments have not wavered. Though some candidates have not been especially vocal about their stance on abortion and LGBTQ rights — Margaret Ryan, Robert P. Young Jr., and Amul Thapar, for example — others have explicitly condemned or ruled against laws and decisions that protect the reproductive rights.
Some of the worst offenders include William Pryor of the U.S. Court of Appeals for the Eleventh Circuit, who has called Roe v. Wade the "worst abomination in the history of constitutional law." Amy Coney, who serves on the U.S. Court of Appeals for the Seventh Circuit, once said in 2013, "The framework of Roe essentially permitted abortion on demand, and Roe recognizes no state interest in the life of a fetus."
Many of the candidates' records on LGBTQ issues are equally abysmal. After the Supreme Court legalized same-sex marriage, Don Willett of the Supreme Court of Texas mocked the landmark decision, tweeting that he "could support recognizing the constitutional right to marry bacon." In her 2015 brief, Britt Grant of the Supreme Court of Georgia argued that there was no constitutional right to same-sex marriage equality.
And while Trump has not yet announced his nominee, anti-abortion groups are already celebrating.