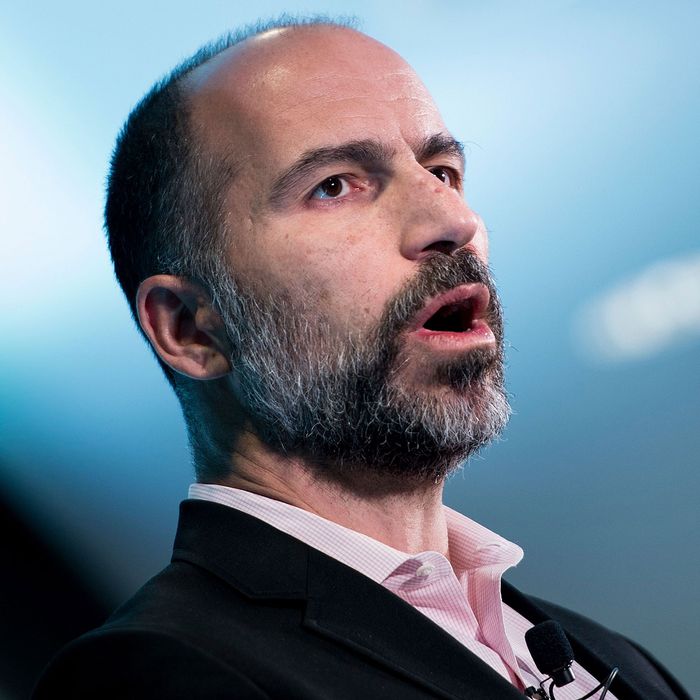 Dara Khosrowshahi.
Photo: Brendan Smialowski/AFP/Getty Images
Dara Khosrowshahi, the CEO Uber brought in after Travis Kalanick was so bad at running his company that an internal probe conducted by former Attorney General Eric Holder found that removing him from power was vital to fixing the company, would like his employees to "have the D." A phrase Khosrowshahi is, according to a report from Business Insider, apparently fond of using, despite it's, uh, similarities to another phrase that feels decidedly more like the Uber that Uber is trying hard not to be anymore.
From Business Insider:
In a May 15 memo obtained by Business Insider, Khosrowshahi describes a new company policy designed to eliminate "bureaucracy creep" at the growing company.




"While our scale and scope are unrivaled, they come at a potential cost: increased bureaucracy, slower decision making, less accountability, and too many people in too many meetings where it's unclear who the decision makers are," Khosrowshahi wrote in the memo.




For that reason, Khosrowshahi tells employees how they should assert control in meetings.




"You may hear me say in meetings '[insert name] has the D here.' This is about being clear on who is the decision maker; I'd encourage you to do the same," Khosrowshahi wrote.
As B.I. points out, the notion of having the D is apparently a "managerial technique" sourced to a 2006 article in the Harvard Business Review. "Who Has the D?: How Clear Decision Roles Enhance Organizational Performance" is the article's full title. "As you may have read, Uber is now run by your dad — so, no, that interpretation was lost on him, but he appreciates Business Insider pointing it out," an Uber spokesperson said of the memo.
Uber: We got the D!