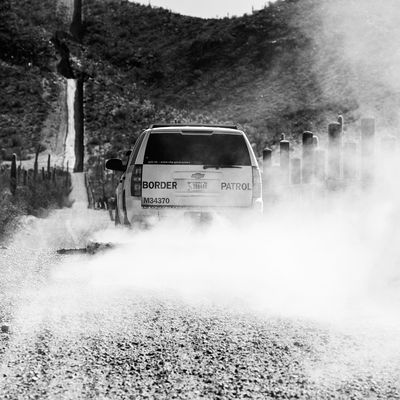 Photo: Jim Watson/AFP/Getty Images
Outrage broke out last week after a video surfaced in which a Border Patrol vehicle appears to hit 34-year-old Paulo Remes, a member of the Tohono O'odham Nation. Video of the incident recorded by Remes seems to show the SUV driving toward him, knocking him over, and then speeding away.
"They just ran me over, bro," he can be heard saying in the 37-second clip.
Afterward, Remes was taken to a hospital and treated for minor bruising. "I'm doing all right, I'm just a little sore, really," he told The Arizona Daily Star. He explained that he had been outside looking for a speaker to listen to music. When he saw the Border Patrol car driving down the dirt road in front of his house, he said, he ran into the street because "I know they'll try and hit me."
Remes said the car ran into him, that it didn't stop, and that no agents got out to check on him. Instead, he says, they turned on their sirens and continued driving away.
Because their land stretches between the U.S. and Mexico, life for members of the Tohono O'odham has been greatly shaped by the U.S.'s increasingly militant border policy. In a statement, Tohono O'odham executive office chairman Edward Manuel noted, "There are two fully equipped forward operating bases on the reservation, as well as checkpoints with armed agents at every entrance and exit to the Tohono O'odham Nation."
He added that the people of the Tohono O'odham Nation have been "feeling the increased struggle of maintaining our Himdag (Way of Life) and Sovereignty in the face of greater militarization and U.S. border policies."
In a statement, the U.S. Border Patrol Agency said that it is "actively investigating" the incident, and that they "do not tolerate misconduct on or off duty and will fully cooperate with all investigations of alleged unlawful conduct by our personnel."
There are ways we can help families separated at the border. Please see here.