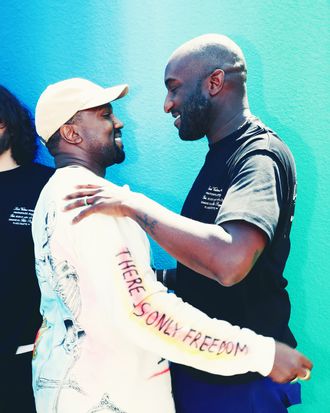 Kanye West and Virgil Abloh.
Photo: Bertrand Rindoff Petroff/Getty Images
In the months leading up to Virgil Abloh's debut menswear show for Louis Vuitton at the Palais Royal on Thursday, an almost unbearable cloud of anticipation, excitement, and skepticism swirled around the 30-something fashion designer — fueled in part by the teasing images he posted for his 2.4 million Instagram followers. On Thursday morning, the tension was finally released, and the whole fashion industry breathed a sigh of relief. And maybe cried a little bit.
Abloh has no formal fashion training (he studied architecture and engineering). His rise to fame was assisted heavily by his social-media acumen and association with Kanye West. And he loves streetwear in a way that makes some fashion people nervous. Would he prove his haters wrong? Or right? Would he make history in a good way, or a bad way? Would one of France's most valuable luxury brands be turned into a T-shirt factory? The answer, it turns out, was so much bigger than that. Sure, Virgil Abloh showed some good clothes. (And some good T-shirts.) But the real victory was that Virgil Abloh made us feel some earnest, cornball emotion.
Before the show began, Abloh had already won. On this sunny day in June, he became the first black show-runner in Louis Vuitton's 164-year history. On Thursday afternoon, he shared a photo on Instagram of the logo for Pyrex Vision — the small streetwear brand he founded in 2012. In less than a decade, Abloh has gone from screen-printing $40 Ralph Lauren flannel shirts and flipping them for profit to competing with Ralph Lauren on a global fashion stage.
With LVMH now backing him, the possibilities for Abloh's first Vuitton show were vast, and no doubt daunting. But instead of pulling out all the stops, Abloh took a simple, familiar road, using color as a general metaphor. (His own label is called Off-White.) The Vuitton runway itself was a rainbow gradient, and various colors of T-shirts were placed on each seat. Seventeen models, all people of color, opened the show wearing all-white looks, followed by more in neon, tie-dye, and elaborate prints — some of which were pulled straight out of The Wizard of Oz.
Toto, we're not in Chicago anymore.
"Like some kids today, I started the surreal mission without 'fashion school' but a blank T-shirt, a screen-printed idea for it, and a dream," wrote Abloh in an Instagram caption on Thursday. In another post today, he added: "You can do it too."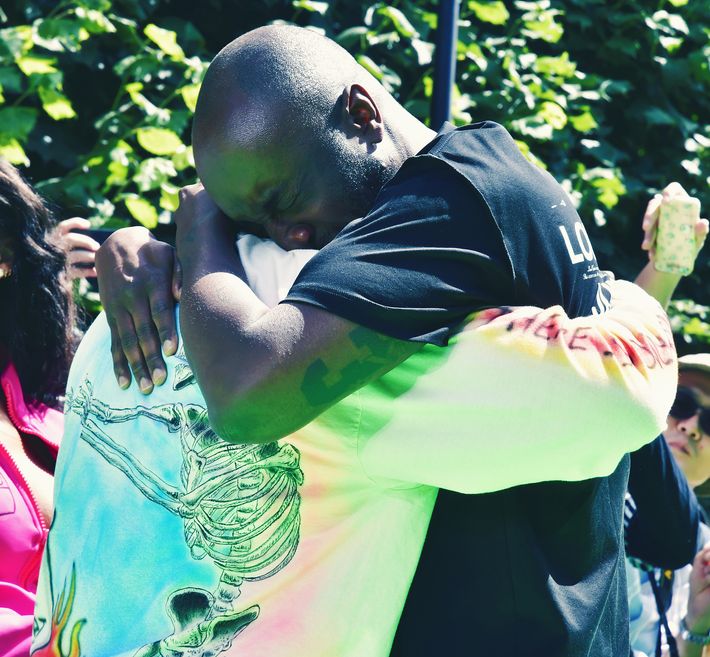 In the audience were those who'd followed Abloh on this metaphorical Yellow Brick Road, including Kanye West, who interned with Abloh at Fendi back in 2009. An image of Dorothy, the Tin Man, the Scarecrow, and the Cowardly Lion printed on a Vuitton sweater brought to mind this much-discussed image of West and Abloh standing with a group at Fashion Week around the same time.
Both West and Abloh have come a long way since 2009, of course. Their own collaborative relationship has had its ups and downs. (West had some strong feels when Abloh's Vuitton appointment was first announced.) But their tearful embrace as Abloh took his bow on Thursday arguably marked a new beginning. Hitting the reset button in an effort to move forward seems to be fashion's hottest trend right now — one that's hard to fault.
Rather than poring over the clothes in the collection, I've watched every single angle of West and Abloh's embrace on Instagram. In Travis Scott's video, you can see West's body convulsing. In Takashi Murakami's, the visible goosebumps on Abloh's arm provoked similar ones on my own. If you watch to the end, you can see West wiping away his tears. Within the context of an otherwise dismal feed, this was without a doubt the best thing I saw today.
The fashion industry can be a cynical place, but the image of these two polarizing figures hugging and crying on a rainbow runway is enough to cut through all the posturing. People might say they want tie-dye and tactical vests, but what they really need right now is something warm and fuzzy.