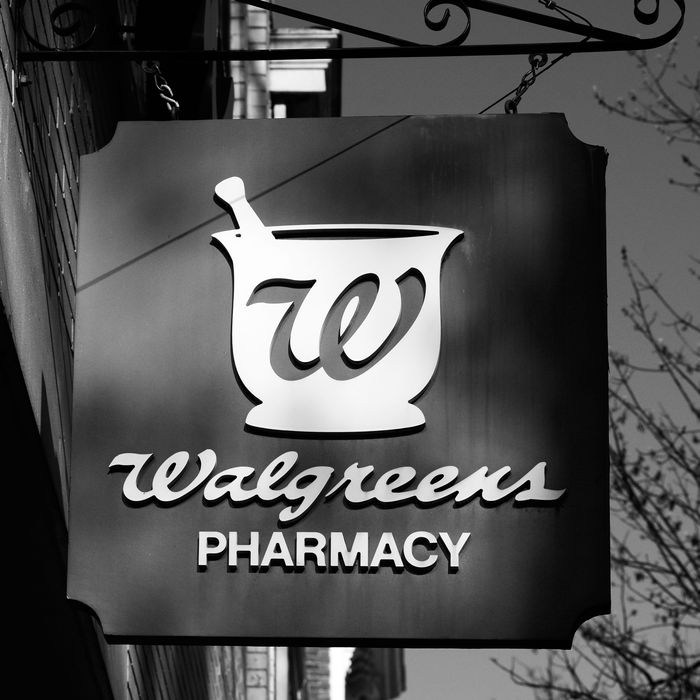 Walgreens.
Photo: Robert Alexander/Getty Images
A woman in Arizona recently brought in a prescription to her local Walgreens for the abortion medication misoprostol, which she had been prescribed by her doctors after no fetal heartbeat had been detected in her pregnancy. But the pharmacist refused to fill her prescription, saying it was against "his ethical beliefs."
Nicole Arteaga, a first-grade teacher in Peoria, Arizona, shared her harrowing story in a widely-shared Facebook post. Nine weeks into her pregnancy, her doctor informed her that there was no fetal heartbeat and that her pregnancy would end in miscarriage. Arteaga's doctor gave her the option of either having the fetal tissue removed surgically through the common D&C procedure, or she could take misoprostol to end the failed pregnancy.
The woman wrote that she then dropped off the prescription at Walgreens, and received a notification that it was ready for pick-up. But when she arrived, the pharmacist refused to giver her the medication. Arteaga writes:
I stood at the mercy of this pharmacist explaining my situation in front of my 7 year old, and five customers standing behind only to be denied because of his ethical beliefs. I get it we all have our beliefs. But what he failed to understand is this isn't the situation I had hoped for, this isn't something I wanted. This is something I have zero control over. He has no idea what its like to want nothing more than to carry a child to full term and be unable to do so. 
She continued that she left the store in tears, "ashamed and feeling humiliated by a man who knows nothing of my struggles but feels it is his right to deny medication prescribed to me by my doctor." Her post also included the business card of pharmacist Brian Hreniuc.
Walgreens said on Saturday that it had been in contact with Arteaga "and apologized for how the situation was handled," per the New York Times. However, the drugstore also said that the pharmacist in question was acting within the company's policies. Per the Times:
"To respect the sincerely held beliefs of our pharmacists while at the same time meeting the needs of our patients, our policy allows pharmacists to step away from filling a prescription for which they have a moral objection," the company said in a statement.
As the Times notes, six states (including Arizona) have laws that allow pharmacies or pharmacists to refuse medication on the basis of religious or moral objections. Arteaga later updated her post to say that her prescription was eventually transferred to a different Walgreens and that she was able to fill it "with no problems."