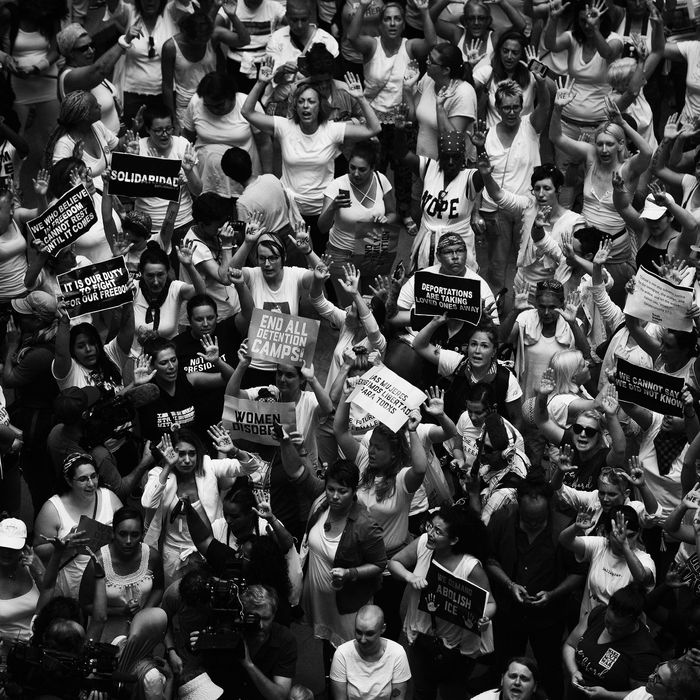 Photo: Astrid Riecken/The Washington Post/Getty Images
On Saturday, June 30, more than 600 demonstrations will take place across the world to protest the Trump administration's severe "zero tolerance" immigration policy, which resulted in over 2,000 children being ripped away from their families at the U.S.–Mexico border, and held in detention facilities.
Organizers of the "Families Belong Together" marches are encouraging participants to wear white as a "striking visual symbol that will also connect attendees in solidarity to each-other and channel historic social justice movements unified by one color of clothing."
While the president signed a misspelled executive order ending his administration's family-separation policy earlier this month, approximately 2,000 children, some babies, remain in government custody, and it's unclear how they will be reunited with their families.
"Trump and his administration have been systematically criminalizing immigration and immigrants, from revoking Deferred Action for Childhood Arrivals (DACA) to ramping up intimidating ICE tactics," moveon.org wrote in its page dedicated to Saturday's marches. "Let's send a clear message to Donald Trump and Republicans in Congress: Families Belong Together."
On Thursday, Capitol police arrested more than 600 protesters —mostly women, mostly dressed in white — who marched to the Hart Senate building in Washington, D.C., to protest the family-separation policy, and to call on the government to abolish Immigration and Customs Enforcement. The protesters chanted "Abolish ICE," and "Where are the kids?" and covered themselves in foil blankets meant to resemble those separated children were given to sleep on in detention facilities.
"Not in our country," tweeted Congresswoman Pramila Jayapal, one of the 600 arrested. "Not in our name. June 30 we're putting ourselves in the street again."