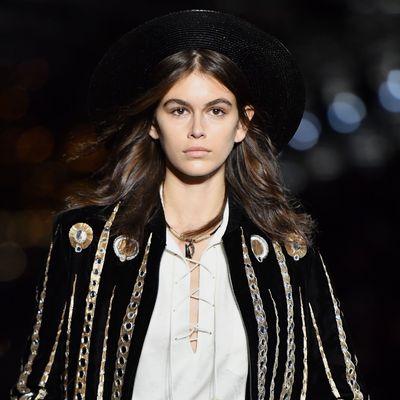 Kaia Gerber.
Photo: Angela Weiss/AFP/Getty Images
Saint Laurent designer Anthony Vaccarello traded in his shows at the Eiffel Tower for a menswear runway with skyline views of lower Manhattan as a background (from a vantage point in New Jersey). It's the first time Vaccarello has brought a show to NYC, and he delivered with lots of body glitter, a dramatic sunset, and a '70s rock-star-cowboy vibe. Peppered in with the male models were women modeling looks from the menswear collection, including Kaia Gerber and Binx Walton.
The event was inspired by one of Yves Saint Laurent's parties back in 1978, celebrating the launch of its now-classic Opium fragrance. Vaccarello reinterpreted the night while still paying homage to the Studio 54 set. The fashion set was ferried over to New Jersey for the show, where guests sat on marble risers overlooking the runway and the view. Perennial icons like Kate Moss and Julianne Moore sat front row at the show.
The clothes had a distinct Western flair, with snakeskin blazers, cowboy boots, and bandannas. Large hats, sequins, and impeccable tailoring took it from John Wayne to Mick Jagger. Vaccarello told Vogue that he wanted to show "the idea of New York, the idea of the icons of New York in the '70s." For the finale, the male models walked out in sequin pants, covered in body glitter and layered necklaces. It was Vaccarello's new idea for couture for men. Watch out starlets, Saint Laurent's glam rockers are coming for the spotlight.