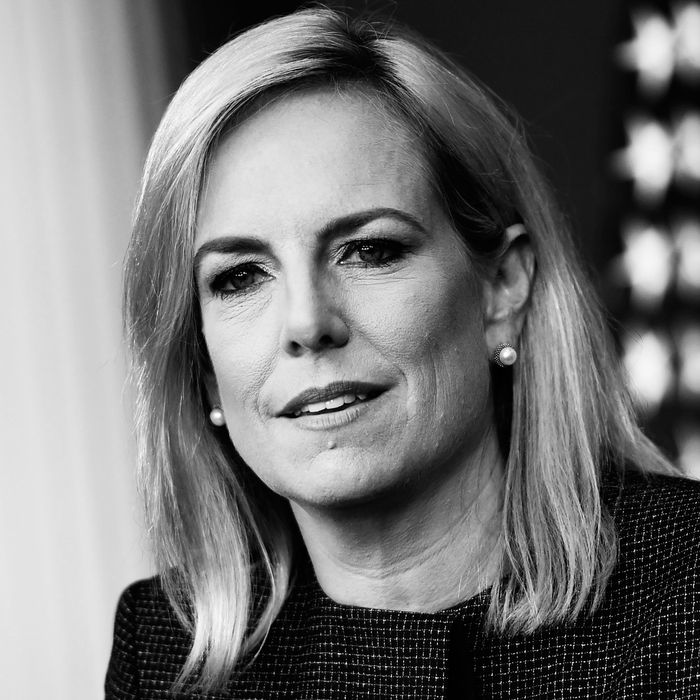 Secretary of Homeland Security Kirstjen Nielsen.
Photo: Brendan Smialowski/AFP/Getty Images
The Trump administration has been facing intense backlash over its "zero tolerance" immigration policy, which has families seeking asylum being separated at the border. Under the cruel policy, migrant children are being ripped away from their parents and housed in detention centers with "prison-like" conditions.
Many reporters, activists, and civilians have been outraged — and so Monday's White House press briefing had a guest at the podium: Secretary of Homeland Security Kirstjen Nielsen, who was on hand to talk about the Trump administration's policy.
But instead of giving concrete answers, offering feasible solutions, or expressing concern for the affected families, Nielsen defended the administration, blamed Democrats, and deflected questions. Here, eight of the most infuriating moments from the briefing.
1. Nielsen claimed the children are not being used as "pawns," despite arguing that Congress needs to pass legislation before the policy would be changed.
2. The secretary also claimed that ripping kids away from their parents and holding them in detention facilities against their will is not a form of "child abuse."
3. Nielsen blamed previous administrations for the Trump administration's decision to enforce the policy.
4. Nielsen was consistently unapologetic about the administration's policy, going so far as to saying that the White House will "enforce every law we have on the books" to "protect the American people."
5. She routinely referred to the affected children as "alien children."
6. Reporters noted that Nielsen made repeated false claims throughout the briefing, including saying that the separated children were able to contact their parents by phone.
7. She asked journalists to keep her colleagues at the Department of Homeland Security in mind in their reporting.
8. Nielsen said she is "not familiar with" the images of children detainees that have been widely circulated.
For ways to help families separated at the border, please see here.