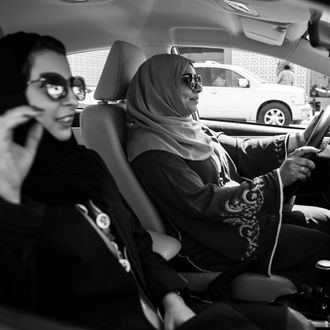 A Saudi woman drives legally on June 24.
Photo: picture alliance/picture alliance via Getty Image
As soon as the clock struck midnight on June 24, women in Saudi Arabia legally got behind the wheel to drive for the first time in history after the country lifted its decades-long ban on women driving.
In September 2017, King Salman announced that by today, Saudi women be allowed to obtain drivers' license and hit the streets in a royal decree that was cheered as an important liberation for women. On Sunday, equipped with official drivers' licenses, women drove around the capital of Riyadh, where traffic policemen handed out roses to female drivers — a shocking image to come out of a conservative country that governs male-female interactions.
Saudi law did not explicitly ban women from driving, but before this liberalization, the kingdom did not issue drivers' licenses to women. Earlier this month, a group of 10 women became the first to collect their licenses from the General Department of Traffic in the Saudi capital of Riyadh after completing driving and eye tests.
While many Saudi women vocalized their excitement about getting behind the wheel on Sunday, not all were celebrating — notably, at least nine of Saudi Arabia's most recognizable women's rights activists who were arrested for protesting the country's ban on women driving.
The reactions today resembled those from September 2017 when the king first announced his intention to lift the ban: Women are thrilled to see the country taking a step in the right direction, but they still feel that they have a long way to go in the gender-segregated society. While Arwa, a 26-year-old Saudi woman told the Cut last September that Kingdom's move was "a victory for women's rights and a huge step to help Saudi women improve their lives," 21-year-old Faten said she would've rather seen the lifting of the guardianship law, which requires every woman to have a male guardian to make critical decisions on her behalf.
"The driving issue is very important, but the guardianship law is THE current issue we women face in Saudi Arabia, and we're suffering because of it," she told the Cut in September 2017. "This law needs to be ended and forever buried. I honestly wish they banned the guardianship law first, then ended the driving ban."