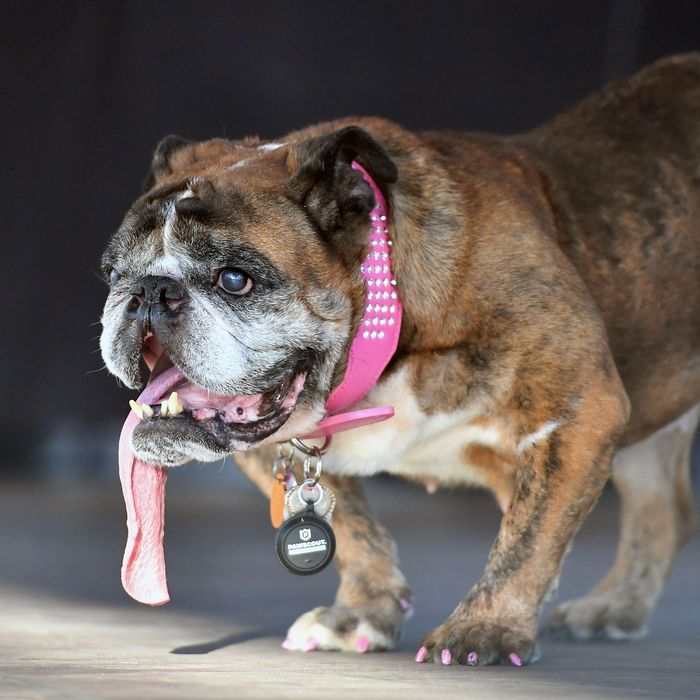 Zsa Zsa, the "world's ugliest dog."
Photo: Josh Edelson/AFP/Getty Images
Of course, there is no such thing as an ugly dog. Each dog is beautiful and created in Dog God's image, as Dog Genesis 1:27 clearly states. However, there must be a winner of the annual "World's Ugliest Dog" competition, which took place on Saturday in Petaluma, California, and this year's is Zsa Zsa, a beautiful nine-year-old bulldog. As you can see, she is perfect.
As a reward for her winning "World's Ugliest Dog," Zsa Zsa's family received $1,500 and a trip to New York to appear on the Today show. Congratulations to them, and to Zsa Zsa, whose personality is described as "messy." I love you, Zsa Zsa. As you can see in the Today show clip, Zsa Zsa's owners say that children will often "shake" Zsa Zsa's tongue, which protrudes longly from Zsa Zsa's mouth. I would like to politely make a request of children: Please stop "shaking" Zsa Zsa's tongue. Show Zsa Zsa some respect. She is an award winner.
Of Zsa Zsa's tongue, her owners told CNN, "We keep it moist since it's dry all the time, and use dog ChapStick for her lips. Her favorite thing is to play with you and put that tongue on your face. It feels so weird." Ah, indeed it must.
Of Zsa Zsa's win, NBC News correspondent and judge Jo Ling Kent said, "It was a very difficult decision. We loved all of the dogs. It was a huge responsibility, and we are just so happy for Zsa Zsa." Ah, as am I.
I love you, Zsa Zsa. I hope you have a very happy life. Everyone please adopt a dog, if you think you can handle one. You're going to love having him or her and maybe one day you can win $1,500 if the dog is "ugly," which it will not be; all dogs are beautiful.