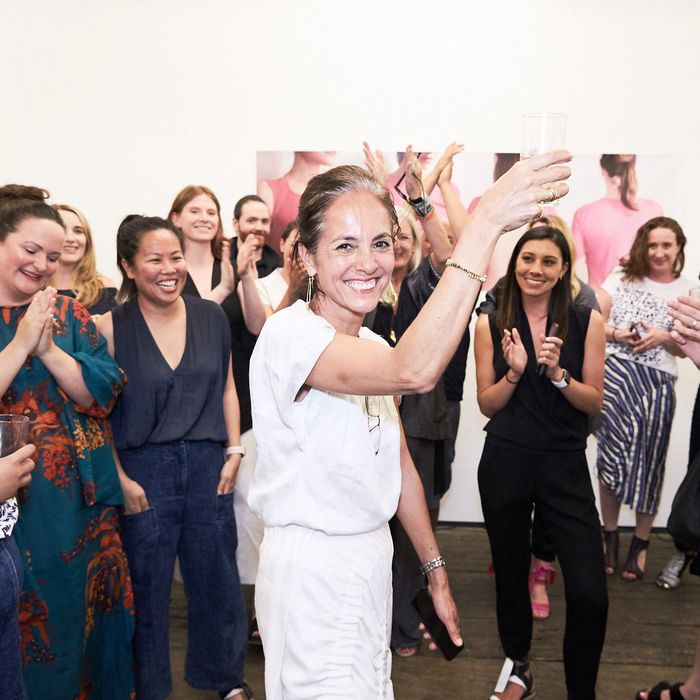 Maria Cornejo at her 20th-anniversary party.
Photo: Ewan Burns
Zero + Maria Cornejo is one of those brands where if you know, you know. And Cornejo's list of clients — which ranges from Michelle Obama to Chloë Sevigny — know. Chilean-born Cornejo opened her concept store on Mott Street back in 1998, quickly paving the way for the kind of architectural, almost-ugly-but-not-quite refinement that now also defines labels like Rachel Comey and Maryam Nassir Zadeh. Last night, she invited friends and clients to celebrate the 20th anniversary of her first retail concept store. Fittingly for the art world whisperer, it was held in a gallery on Bleecker Street.
Actress Gaby Hoffmann, designer Narciso Rodriguez, and Paper magazine editorial director Mickey Boardman mingled in the gallery, surrounded by photos from 20 years of Zero + Maria Cornejo. (The images included Sevigny wearing a navy dress, Stella Tennant holding a lock of her hair, and a woman's bare chest.) Reflecting on the past 20 years, Cornejo said, "It's been such a roller coaster. But I'm still being creative which is my number one thing. That's what keeps me going."
How has she won over artists like Marilyn Minter, Kara Walker, and Cindy Sherman? Cornejo told the Cut that she thinks her clients see a kindred artistic spirit. Within that creativity, though, practicality is at the center of her design ethos. "It's design for real women. I'm not designing for some muse. When we design, it's like, Okay what is the woman doing?" I never thought of myself [as an artist]. I see myself as a designer; I'm a problem solver."
One of the problems she's tackling is sustainability in the fashion industry. She started her brand by using dead-stock fabric, and now has moved to recycled materials. The shirts she was selling at her anniversary party benefitted the ACLU, and were printed with a poem by Cornejo's husband at a non-profit in the East Village. "I'm a testament to trying to do it all," Cornejo said of the past 20 years, in between greeting guests by kissing them on the cheek as they walked through the door.