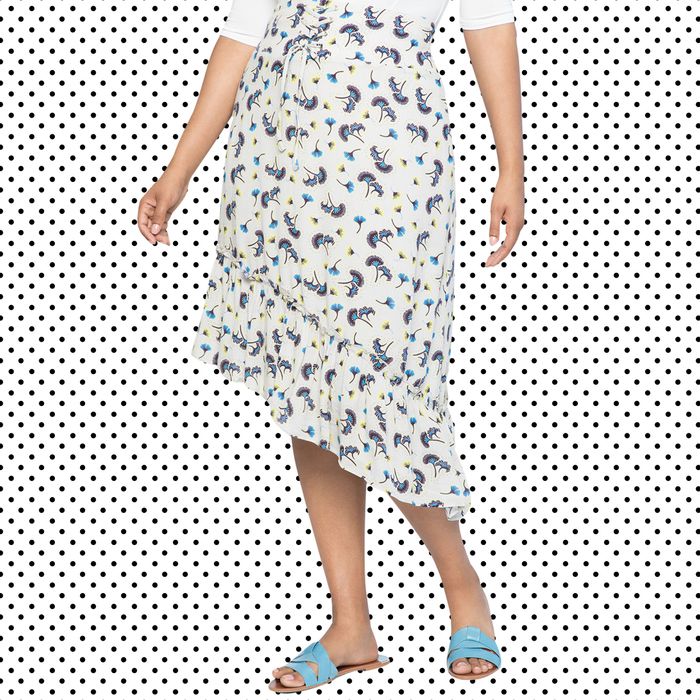 Nothing quite captures summer dressing quite like the feeling of wind rustling a midi skirt. Just think Gwyneth Paltrow in The Talented Mr. Ripley, or any character in Mamma Mia! You may not have a Grecian island hotel or an Italian villa at your disposal, but you sure can dress like you do. Below are 12 of our favorite patterned skirts, perfect for the last nine Saturdays left in summer.
If You Have Tons of Summer Parties
A trumpet skirt is a dramatic, look-at-me silhouette. If you're a host, or just a guest who wants to be noticed, it's perfect.
Available in sizes 00-16
If You Can't Stop Watching Clueless
A plaid skirt suit is reminiscent of a certain fashion-favorite '90s movie that never goes out of style.
Available in sizes 14-24
Everything about this skirt — the length, color, and sophisticated pattern — is office-friendly.
Available in sizes 0-18W
This skirt would also make a great beach cover-up alternative.
Available in sizes 0-14
With a barely noticeable corset and delicate flower print, who can resist this feminine skirt?
Available in sizes 14-28
Staud has become an Instagram-famous favorite for their bright, cotton pieces.
Available in sizes 0-12
Summer goths like to feel pretty too, okay? A dark floral is a year-round classic.
Available in sizes 2-12
The geometric print looks a bit like a Mondrian painting. Pair with an afternoon at the MoMA.
Available in sizes 14-28
Diane von Furstenberg's bright skirt is endlessly versatile. Date night, anyone?
Available in sizes 0-14
The belted waist adds interest to this floral pencil skirt.
Available in sizes 14-22
The muted color palette will stand out from the sea of red, white, and blue stripes.
Available in sizes 14-28
Abigail Borg, who collaborated with J Crew on this skirt, is known for her detailed floral prints. In silk, the skirt feels like a work of art.
Available in sizes 00-16
If you buy something through our links, New York may earn an affiliate commission.