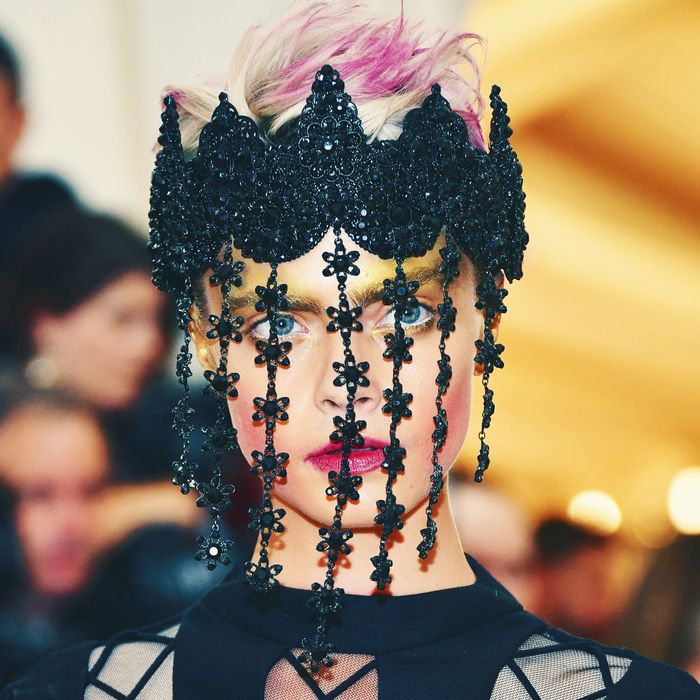 Cara Delevingne.
Photo: Dia Dipasupil/WireImage
They hath risen: Only a few months after this year's Met Gala, Cara Delevingne finally got her film developed from the Catholic-themed fashion bash.
The supermodel, actress, and patron saint of film cameras shared her sacred images on Instagram, featuring many of our favorite, most holy celebrities — including Frances McDormand hanging out in the bathroom and the holy alliance of Issa Rae and Chadwick Boseman.
Behold, her great work below.
The holy mother, Cardi B, with Jeremy Scott:
What holy thing does Jimmy Fallon see with these glasses? (Scroll left):
As promised, here's Issa Rae and Chadwick Boseman:
And lo, Frances McDormand in the bathroom with Cleo Wade.
Also in the bathroom, Katy Perry and Winnie Harlow:
This photo of Donald Glover, 2 Chainz, and Wiz Khalifa has the caption "Three Musketeers," but for Catholic purposes, let's call them the Three Wise Men:
Images of our Entrepreneurial Lords, the Kardashian- Jenner sisters:
And finally, Gigi Hadid, Ariana Grande, and Kylie Jenner (again):
We thank you for these blessings, Cara.