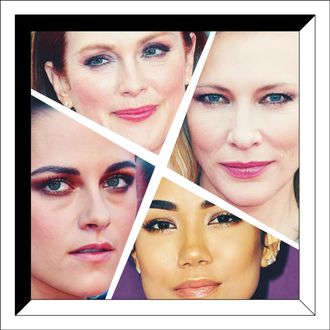 As dermatologists like say, your skin is an organ — the largest one on your body. And if you're a celebrity, it's an organ that's constantly in the spotlight, unlike, say, your liver. So how do famous people keep their skin looking and feeling healthy? The Cut has rounded up skin-care tips from 25 boldfaced names, from John Mayer to Julianne Moore. Read on for Natalie Portman on eating a vegan diet, Paris Hilton on staying out of the sun, and Olivia Munn on the Japanese tuber that she swears keeps her skin bouncy.
1. Jhené Aiko
"I get Fraxel about twice a year. It's an intense laser treatment that improves texture, acne scars, and enlarged pores. Its kinda expensive. and hurts like shit. ur face micro scabs … the scabs fall off gradually … over a period of like 7 days. and then a new layer of skin is revealed … your face stays swollen for like another week. Its all so worth it tho lol. i keep up the results w/ Alastin skin care, IS clinical serums, Cera V wash, Lancer scrub and Circell ab serum. also i take collagen pills, drink kangen water, apple cider vinegar and take Super Food by Dr Shulzes daily!" —Instagram, March 2018
2. Natalie Portman
"I'm vegan and I found my skin is much, much better than when I was a vegetarian. I cut out dairy and eggs, and I never had a breakout after. That was definitely a discovery. It's personal; everyone has different sensitivity. I also did it when I was 30, so it might have been an age thing.
I wash my face with the Joelle Ciocco face wash and toner. I'll use a little bit of Bioderma makeup remover. Then I moisturize with Pai — it's organic — and I use their eye cream. They have a rose oil. Sometimes, I'll do the moisturizing mask if I'm flying. I like the way all these products smell. They feel nice, and the scents make a difference." —the Cut, August 2017
3. John Mayer
"I don't smoke, and I don't drink anymore, and I don't go out in the sun, and I don't eat, and I don't love anybody." —Instagram, February 2018
4. Cate Blanchett
"Sandy Bullock and I saw this facialist in New York, Georgia Louise, and she gives what we call the penis facial and it's something — I don't know what it is, or whether it's just 'cause it smells a bit like sperm — there's some enzyme in it so Sandy refers to it as the penis facial." —Vogue Australia, March 2018
5. Karrueche Tran
"I do Sweatheory. It's a place in L.A. where they have small, heated saunas that go up to 130 degrees. You can sit in it. When I want to clear my face or if I'm feeling sick and want to get toxins out of my body, I'll sit in there for around an hour. I step out at certain times when it gets too hot. I've been doing a lot of hot yoga, too, where I sweat a lot.
I feel like that's a really good way to clear out your pores without having to do too much picking. It all comes out." —the Cut, December 2017
6. Julianne Moore
"It's so boring to say, 'I always wash my face,' but I do. Some people don't. I put on some eye cream, moisturizer, and put my retainer in and go to bed. [Laughs.] I've heard a lot of people say, 'I'm supposed to wear my retainer forever?' Yes, I have worn it every single night. And the times I haven't, I was sorry.
My husband loves to have sushi in L.A. because it's so good out there. But if I'm there for an awards show or something, I'm like, 'No, I'm not doing it the night before the Golden Globes.' [Laughs.] My face will be puffy." —the Cut, June 2017
7. Paris Hilton
"[My mom] told me to always stay out of the sun, so while all my friends as teenagers were laying out all day in the sun, in oil, I never joined them. And I thank her so much — my skin looks good and I've not had to do Botox yet. That, and always moisturize, which is what I've been doing since I was 10." —Grazia, June 2015
8. Adam Rippon
"My nightly skin routine is pretty easy. Use a gentle cleanser, hydrating serum, check to make sure Stormy Daniels is raising enough money for her legal fees, and a night cream for glowing skin in the morning!" —Twitter, March 2018
9. Madonna
"You can take any face mask and try it on your behind. Skin is skin. I think people would want the skin on their butt to be smooth, glowing, and hydrated. I mean, I know I do. There are certain special people that get to see our butt and you want it to look its finest." —the Cut, April 2018
10. Vivienne Westwood
"Don't wash too much." —The Guardian, October 2017
11. Kristen Stewart
"I use Proactiv. It works. It's really good. I've used it for a long time. I'm reliant on it. I use their three-step [system]. And I try to moisturize more than I ever had. Apparently, that's good for you. That's about it. I drink a lot of water. Like, if you don't drink water, you look awful. That's a huge part of my 'beauty' regimen, I guess.
I use mascara, eyeliner, and maybe some concealer. ChapStick. I don't like color on my lips unless I'm doing full-on.
I'm always striving to get to the point where I look like I've woken up in the last hour. You know that look you get when you're fresh-faced? You're a little puffy but looking really good? That's what I like." —the Cut, January 2014
12. Neelam Gill
"Well, when I was younger, I thought it was weird that my mom always believed in using an oil-based cleanser. That was before it was a trend.
Nowadays, it has more to do with the food that I eat. My mum always made me haldi, a hot turmeric milk and honey, which is great for you. If I'm really tired, that is what I try and do. I use almond milk. It's so relaxing, it helps you detoxify and soothe." —the Cut, November 2017
13. Amanda Seyfried
"There's a difference between taking care of yourself and putting yourself through suffering. For example, I think about the suffering to get rid of that line [gestures to forehead]. Even directors of photography have said that they have to light me a certain way so you can't see my line. Then I see movies that I'm in, and I see that the line's still there. I'm like, Oh good, they didn't worry about that. I'm very expressive.
I would love if I could wake up tomorrow with it gone but still move my face. But if I have to suffer for it, I'm going to think about it. Hopefully not, but who knows." —the Cut, December 2016
14. Jane Seymour
"I don't do any treatments, I don't go to a dermatologist, I don't have any of those things done. No peels, no nothing." —the Cut, April 2018
15. Olivia Munn
"I get my potatoes from a Japanese market. I'll take one sweet potato, slice it into one-inch-thick slices, and then dust it with olive oil and cinnamon, put it in the oven, and do that as dessert. I'll eat those as often as I can — a couple every day. The root potato is covered in dirt and has a slimy texture like okra. You can boil them or put them into a soup, which takes a little more preparation.
In eating them, I saw a huge difference. I started noticing it with my flexibility. Even though I had been working out over time, I was only able to go 40 percent into a split. And then, after months [of eating the potatoes], 80 percent into a split. I could see the difference. Usually, in the morning, I would get the pillow creases [on my face] and rub them out with lotion. Now, after a month of doing the potatoes every single day, the line would be gone as it was when I was younger. I know there are vitamins or supplements with hyaluronic acid, but I didn't feel like I saw as much of a difference as I did getting it from the natural source." —the Cut, July 2016
16. Helen Mirren
"I'm an eternal optimist — I know that when I put my moisturizer on it probably does fuck all, but it just makes me feel better … I've always said to L'Oréal as well that I will only do what makes me feel better." —The Telegraph, August 2017
17. Caroline Goldfarb
"We're always talking about our weird body crests and my struggle with acne. I can't share that struggle enough. It's just part of who we are. I love when girls post pics of their fat rolls or when they post pictures of their 'messed up' skin. At the end of the day, that is the best. When I see girls post their skin with acne, it's so rare. It makes me feel less alone.
I've learned that skin care is an integral part of self-care, like the way Korean women teach their kids about different steps. It's not only a luxurious thing, but something everyone can do. Learning to properly take care of your skin from a young age is part of health. It's not just an indulgence; it's a health practice." —the Cut, June 2018
18. Justin Bieber
"Pimples are in." —Instagram, March 2018
19. Gwyneth Paltrow
"I use coconut oil a lot — I do on my face, on my skin and in my cooking. And I just started oil pulling, which is when you swish coconut oil around [in your mouth] for 20 minutes, and it's supposed to be great for oral health and making your teeth white. It's supposed to clear up your skin, as well. It's really interesting; it's an ancient, ancient technique. I read about it on the Internet." —E! Online, March 2014
20. Mario Dedivanovic
"You know that guy in My Big Fat Greek Wedding who used Windex for everything? My Windex is tea tree oil. Anytime I have any sort of blemish, I just put tea tree oil on it. I'm convinced that it cures anything." —the Cut, April 2018
21. Blake Lively
"The idea of weekly facials sounds good to some, but I'd rather spend that time with friends and family. I don't rely on professional skin maintenance. In winter, I focus on hydration. In summer, I go with lighter moisturisers, and regardless of the season, I am always focused on sun protection." —Beauty Crew, May 2017
22. Kourtney Kardashian
"Every morning, pretty much, I have an avocado shake. I call it avocado pudding, because it's more like pudding, and I eat it with a spoon. The recipe is on my app, but it's avocado, Manuka honey, and almond milk or coconut milk. I used to do whole milk, but I don't do dairy anymore. And I just feel like the avocado and the honey are so great for my skin and hair, and it keeps me full until lunchtime." —Refinery29, November 2016
23. Alexandra Shipp
"Acne is my thumbprint. It's 100 percent me. It's my genetic code. I have too much testosterone and that in turn creates cystic acne. When you fall prey to it, you have to know about it.
With cystic acne, you can feel good and then wake up looking like you had spider bites across your face. To counteract the testosterone, I try to eat things with a lot of estrogen. I eat soy. I'm vegan so that balances it too. We are what we eat. I had to figure that out. I was working so much and my skin was so bad. I only felt pretty when I was wearing makeup. My blemishes are part of me but don't define me." —the Cut, May 2018
24. Miranda Kerr
"It's important to embrace aging. That's why I believe in using products on my skin that help detoxify it and fill it with nutrients.
Skin is the largest organ in your body. It's so important to fill it with the nutrients it needs so that it has that vitality and life force. In the world we are living in, there is so much pollution. But I'm not super strict with everything. I obviously wear makeup and it's not always organic. I always put on my Noni Glow Face Oil. It's sinking in and allowing the nutrients to get in there first. Healthy skin is beautiful skin regardless of your age." —the Cut
25. Lili Reinhart
"I just post my most authentic self: me with pimple cream on, me with my pajamas in my bed, me with a face mask … that's okay because that's what I look like more times than I look glamorous on the red carpet." —the Cut, June 2018