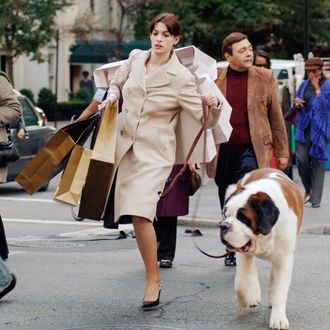 Anne Hathaway in
The Devil Wears Prada
.
Photo: Twentieth Century Fox
The unpaid internship — once considered by some the golden ticket to a career, bemoaned but taken in stride — is now "going out of style," according to The Wall Street Journal. With unemployment at historic lows and a series of high-profile lawsuits emerging, more companies are paying workers to ensure top talent for entry-level positions (and to prevent themselves from being sued).
But a recent Twitter thread by Adam Grandmaison — also known as Adam22, the host of YouTube podcast No Jumper who has been accused of sexual assault by two women — revealed that some still believe that "if you want a really cool job, you might have to do it for free for a while." (He also claimed to hate managing interns.) The posts kicked off a debate on the merits of unpaid internships, and how they prevent workplace diversity and abuse workers.
We spoke to seven former interns, who divulged stories about selling their boss's shoes on eBay, moving furniture in a U-Haul, and picking up dog poop.
Some names and identifying details have been changed to preserve anonymity.
I worked at an event space in Manhattan, and my boss was this eccentric dude who would always try to say inspirational things while asking me to do menial labor. He told me he tried to sell his life story to Viacom, and he talked about Burning Man A LOT. I once got off early because his crazy ex stormed into the space and they started arguing very intensely.
My boss used the space to store his collection of lightly worn Doc Martens, plus other shoes and personal purchases. Also his parents had moved out of their old house, so a lot of weird stuff — antiques, props, random things — were kept in storage in the space. He was always trying to sell things on LetGo or eBay. One day, I was waiting for a task and he just pointed me to a stack of shoe boxes and was like, list those on eBay at these prices.
So I had to list them and describe the wear and tear. The next day I came in, I responded to inquiries and got quotes for shipping. He gave me two pairs of shoes at the end of my internship though, so guess it paid off!
Once I thought I was interning for someone who ran a beauty service. She seemed really cool and was a socialite. The first day, she had me sit in her apartment while people from Craigslist came to pick up her furniture from her apartment — she was getting ready to move that summer. Next thing I know, I spend all week moving all the furniture out from her apartment (fifth floor walk-up) to her office 20 blocks away. I rode in the U-Haul with the driver, and I was never paid. She said I would be paid in high-end makeup. I quit over email one week later when nothing changed and she started asking me walk her dog.
I interned for a newspaper right after I graduated college in 2008. Male interns were required to wear suits every weekday because that's what a real "newspaperman" wears. That was the actual term the higher-ups used. It was an unpaid internship, so that meant I actively lost money that summer due to my dry-cleaning bills. On Sundays, we could wear something business-casual, so I once wore a blazer, button-down, khakis, and dress shoes. I was called into the editor-in-chief's office so he could berate me, saying a newspaperman doesn't wear cotton pants. We were also required to exit subway rides at 30 minute intervals if they were going to take longer than that, because we needed to be on call and couldn't be out of range for longer than that. I learned a ton and my direct editor was a great guy, but it was a surreal and costly introduction to adult life.
I had a couple documentary-film internships which were all unpaid. The first one, I was transcribing, and it was mostly just nature sounds. I had to listen to the wind for six-plus hours a day.
At another documentary internship, I had to do my employers' dishes and take their dogs for walks. Film school prepared me for picking up dog poop.
I had an unpaid internship in the summer of 2015 that was a total scam. It was at a "distribution company" that was composed of a CEO (white dude with no experience, early 30s), his assistant/secretary, and a video editor who came in sometimes. There were four of us interns. He said we could either receive college credit (which would make us pay about $3,000 per credit) or receive a $1,000 stipend for one summer of work.
He was entirely unprofessional. He took us to lunch sometimes and encouraged us to drink even though he knew we were under 21. He didn't reimburse us for the gas we used while driving on the job until we fought tooth and nail for it. He invited us over to his place after to smoke. Oftentimes we'd just be all sitting in the same room (a two-room building), using our own laptops, doing nothing all day. After the internship it took him almost a month to pay us each the $1,000 we were owed after emailing him multiple times. Unpaid internships are a complete scam and the "CEO" of this company was literally exploiting college students when he himself had (probably) received seed money to start this "company" from his parents. NEVER AGAIN!
I was an unpaid intern at this "art advisory" that represents a bunch of up-and-coming artists in the area and works directly with buyers and designers to sell art. Basically, they had me create multiple fake emails and aliases to contact various artists and vendors and get pricing. (I'm guessing in an effort to get the best deal? All very unclear.) One time, I forgot my pretend name, Sarah, and signed my real name. It was tragic.
I was 22 at the time, working for a start-up media company. The person I reported to on my internship was going on a two-week trip, and he saw a hat he really liked in a magazine photo that he wanted to wear on the trip. He made one of my last projects tracking down this hat, which I soon discovered could not be purchased. So he had me put together a presentation of the hats that looked most like it with images and prices so that he could find something similar — during my time at the office.