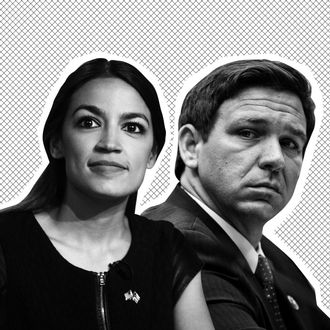 Alexandria Ocasio-Cortez and Ron DeSantis.
Photo: Getty Images
Ever since 28-year-old Alexandria Ocasio-Cortez defeated long-term incumbent Representative Joe Crowley in New York's 14th Congressional District, establishment politicians have failed to conceal how threatened they are by the Democratic Socialist from the Bronx. According to HuffPost, the latest politician to attempt to discredit Ocasio-Cortez is Representative Ron DeSantis, a Republican from Florida, who referred to the Democratic congressional nominee as a "girl … or whatever she is." In one succinct tweet in response to the representative, Ocasio-Cortez told DeSantis exactly what she is.
At one of his campaign events on Saturday, the Trump supporter and candidate for Florida governor made the decision to bring up Ocasio-Cortez's objectively successful campaign — though he clearly believes otherwise, which he revealed in a blatantly sexist comment.
"You look at this girl Ocasio-Cortez or whatever she is, I mean, she's in a totally different universe," the 39-year-old said to a laughing crowd. "It's basically socialism wrapped in ignorance."
Monday afternoon, Ocasio-Cortez took to Twitter to defend herself against DeSantis, telling him exactly who she is — "a Puerto Rican woman" who is unafraid of his attacks.
She continued: "It's strange you don't know what that is, given that ~75,000 Puerto Ricans have relocated to Florida in the 10 mos since María. But I'm sure these new FL voters appreciate your comments!"
While DeSantis has yet to respond to Ocasio-Cortez's tweet, his spokesman told HuffPost earlier that all of DeSantis's remarks at the campaign event might "prevent more socialists like Ocasio-Cortez calling for 'free' everything."
Ah, yes: Because Ocasio-Cortez's calls for Medicare for All, housing as a human right, and a higher minimum wage are so unpopular.