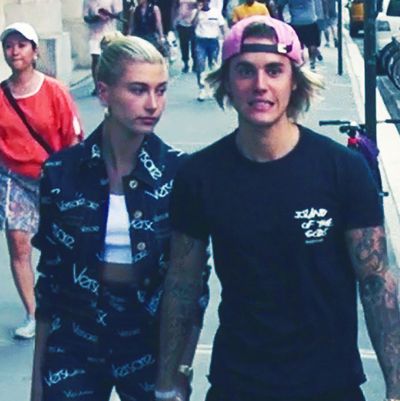 Hailey Baldwin and Justin Bieber.
Photo: Hollywood To You/Star Max/GC Images
Over the weekend, news broke that famed shirtless dancer Justin Bieber, 24, had pulled a "Pete Davidson" by proposing to noted … model? … Hailey Baldwin, 21, while on vacation in the Bahamas. You see, just like Davidson and singer Ariana Grande before them, Bieber and Baldwin haven't been involved that long. Sure, they've been on-and-off (but mostly off) since her dad Stephen Baldwin (religious brother of Alec) first introduced the youngsters in 2009, this time around, they've really only been together for a few short weeks.
So … how did this even happen? Here, everything we know about the Bieber-Baldwin engagement so far. We'll continually update this post as more information about the betrothed couple emerges.
They've been in each other's lives since October 2009. In a now-viral video, Hailey's dad Stephen Baldwin is seen introducing his daughter to the Despacito singer backstage at the Today show. Hailey looks incredibly embarrassed but also simultaneously disinterested as her father tells Justin, "We've been enjoying your music." Then, she shakes his hand. Ah, love!
They mostly dated other people since then. The Cut already has a comprehensive timeline of Justin and Hailey's relationship (that you should definitely read here), but gist is, from 2009 to 2018, they were mostly dating other people. Justin had a very serious and long-term on-and-off relationship with Selena Gomez that involved a lot of hockey, while Hailey dated singer Shawn Mendes for a bit. During that time, Hailey tweeted that she was jealous of his relationship with Selena; Justin and Hailey occasionally hooked up; he gave GQ's Caity Weaver some excellent quotes about why he couldn't commit to Hailey (while Hailey sat alone in his hotel room); and we all generally forgot that they knew each other.
But they started hanging out again late May. Hailey told the Times in late May that the pair were starting to talk again after losing touch. Then they started making out all over New York City, posting Instagrams together, and of course, going to Hillsong church together, so we all knew they were back together in at least some capacity.
And now … they're engaged? … ….. … … We know.
Justin apparently decided to propose two weeks ago. Huh. So, two weeks ago, when they'd only been hanging out again for less than a month, Justin decided to pop the question to Hailey. A "source" close to Justin (hmmmmm) told People on Monday, "He knew a couple of weeks ago that he wanted to propose. He sees marriage as something very special. He would never propose if he wasn't crazy about Hailey."
He bought the ring before the couple left on a "surprise" trip to the Bahamas over the weekend. People's source said, "Justin picked out the ring before they flew to the Bahamas. He took Hailey on a special trip to propose. She didn't know."
Justin talked to Pastor Carl Lentz before he proposed. As the leader of hipster megachurch Hillsong, where Justin and Hailey both worship, of course Lentz was somehow involved in this.
Justin was "nervous," and Hailey was reportedly "surprised." As were we, girl!!!
The ring looks super fancy. We don't have much info on it yet, but look at that thing:
They've been celebrating by partying in the Bahamas, dancing to Justin's music, and having their parents post vague things on social media that seem to confirm the engagement. Of course!
Congrats to the happy couple!